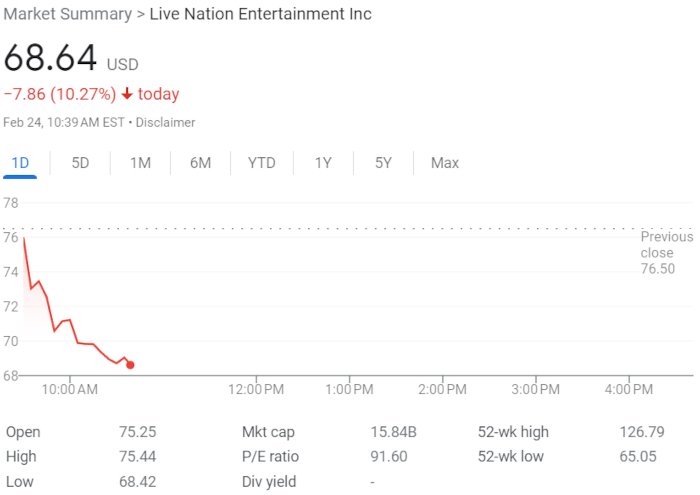 Live Nation (NYSE: LYV) posted continued revenue growth (including a 66 percent year-over-year improvement in concerts income) during Q4 2022, but has nevertheless seen its stock price slip.
The Beverly Hills-based promoter just recently unveiled its fourth-quarter and full-year showings – while also taking the opportunity to emphasize that there's "no sign of any slowdown" for 2023. During October, November, and December of last year, the Ticketmaster parent's total revenue cracked $4.29 billion, up about 59 percent from Q4 2021 but down roughly 30 percent from Q3 2022.
Within the figure, Live Nation identified almost $3.4 billion in concerts income (up about 66 percent YoY despite a nearly 36 percent quarterly dip). Fueling the sum were 43,644 events held during all of 2022, the report shows, up from 17,412 in 2021 and 8,117 in 2020. (Attendee spending at the 2022 events is said to have jumped by double digits from 2019, including an average of $37 in per-fan revenue at North American amphitheaters during 2022.)
And as a number of 2023 tours went on sale during the fourth quarter, ticketing revenue, at $651.3 million or so, increased from Q4 2021 (by approximately 34 percent) and from Q3 2022 (by close to 23 percent).
Rounding out Live Nation's Q4 2022 revenue is $245.6 million from "sponsorship and advertising" (up 44 percent YoY and down 28 percent QoQ), whereas "other and eliminations" accounted for a $2.2 million loss on the quarter, per the publicly traded company.
Meanwhile, the Broccoli City Festival stakeholder acknowledged $38.9 million in Q4 acquisition costs, which contributed to a $119.9 million operating loss for the quarter. But the TERO Concerts and Entertainment owner likewise disclosed that its operating income for all of 2022 had topped $732 million, as overall revenue surpassed $16.68 billion.
Looking forward to 2023, Live Nation president and CEO Michael Rapino supported his business's optimistic projections by indicating that ticket sales (50 million passes sold to 2023 events as of mid-February), deferred revenue ($2.7 billion at 2022's end), sponsorships (70 percent of which are said to be confirmed for 2023), and more had increased by double digits YoY.
In a contrast to prior quarterly reports, Live Nation – whose CFO faced a congressional grilling last month – dedicated a substantial portion of its earnings release to addressing the "regulatory environment and reforms."
"Since signing the extended consent decree related to the Ticketmaster merger," communicated Rapino, whose company is reportedly the subject of an ongoing antitrust investigation, "we remain in constant conversation with the Department of Justice's monitors, and do not believe there have been any violations."
Rapino further revealed that his company had "launched" the FAIR Ticketing Act, which he claims would (among other things) allow artists to establish ticket-resale rules and expand the scope of the BOTS Act. The move comes only weeks after the White House publicly pushed legislation that it says would curb "the huge service fees that companies like Ticketmaster slap onto tickets."
At the time of this writing, Live Nation stock was down 10.27 percent from Thursday's close, at $68.64 per share. Yesterday, former Ticketmaster CEO Irving Azoff expressed firmly worded criticism of secondary ticketing companies, and an appellate court earlier in February found that Ticketmaster's terms of service do in fact compel arbitration.