The 2024 Ford Mustang will drop the AM radio receiver in its infotainment system—joining the electric F-150.
Users of the Mustang7G forum discovered the new model would lack AM radio receivers. Soon, a Ford spokesperson confirmed the move saying, "countries and automakers globally are modernizing radio by offering internet streaming through mobile apps, FM, or digital." AM radio consumption habits have shifted, but it remains part of the United States national alert network. Just 75 stations reach more than 90% of the country's population for emergency alerts.
Many officials are concerned that a decrease in the availability of AM receivers in cars could prevent drivers from being reached in actual emergencies. Standalone AM radios exist, but not many people will think to purchase an aftermarket radio for their brand-new car—especially to receive emergency alerts.
A survey of radio listeners finds that radio listening on the whole, whether it is AM or FM, is trending downward. That's because the younger generation prefers listening to podcasts and streaming music as their AM/FM replacement, respectively.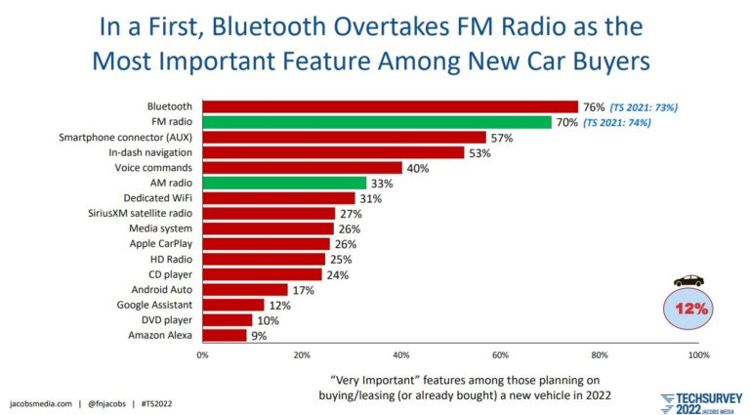 Bluetooth is now the most preferred technology for connected vehicles among new car buyers. 76% of those who were surveyed said the tech is a 'must have' in any new vehicle purchase, up from 73% on 2021. 74% of respondents said AM radio was a 'must have' in 2021, but that's down to just 70% in 2023. Just 33% of new car buyers reported AM radio as a 'must have' feature, showcasing why automakers feel the receiver is no longer necessary in 2023 model vehicles.
This showcases how listening trends are changing as people use their phones to control their listening experience in the car. Technologies like voice commands, dedicated WiFi, and CarPlay and Google Assistant all made the list of at least 25% of new car buyers say they want the technology on their vehicles. These internet-connected technologies are more desirable among new auto buyers (read: younger folks).