YouTube Music appears to be testing cover labels for songs on the service. It's one of many improvements over the last few months.
Google's premiere music streaming service has been severely lagging behind competitors, but new feature updates are bringing it up to parity. Real-time lyrics recently went live and now it looks like YouTube Music is testing a label for covers.
Spotted by an eagle-eyed Reddit user, the new label feature appears to make it more obvious at a glance when a song is not an original work from an artist. The track "Jesus He Knows Me" was originally released by Genesis back in 1991, but the Swedish metal band Ghost did a cover of the song this year. The cover of that song now has over a million views on YouTube and now a 'cover' label appears when searching for it on the app.
A quick search of postmodern jukebox on YouTube Music shows that the label is being inconsistently applied to plenty of tracks. The top two tracks on the list "Blackhole Sun" and "Creep" are correctly labeled as covers, while "Happier" is not. All three of the top songs are covers—because postmodern jukebox mostly focuses on covers.
It's interesting to see the feature live and you can probably test it yourself. Search for your favorite cover band on YouTube Music and see if they're labeled yet. Some of the most famous covers in the world don't seem to have the label yet. Android Police mentions that "I Will Always Love You" by Whitney Houston is not currently listed as a cover—though the original was released by Dolly Parton in 1973.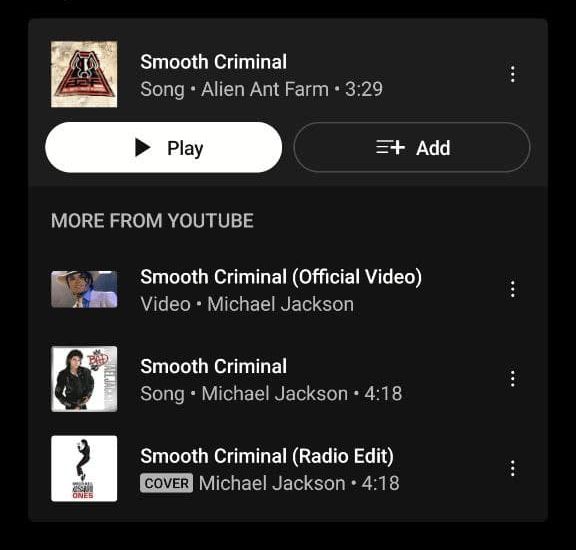 Oddly enough, I couldn't get the new 'cover' label to appear for Alien Ant Farm's cover of "Smooth Criminal," but noticed the radio edit version of Michael Jackson's version was listed as a cover. YouTube Music may not have all covers properly labeled yet.