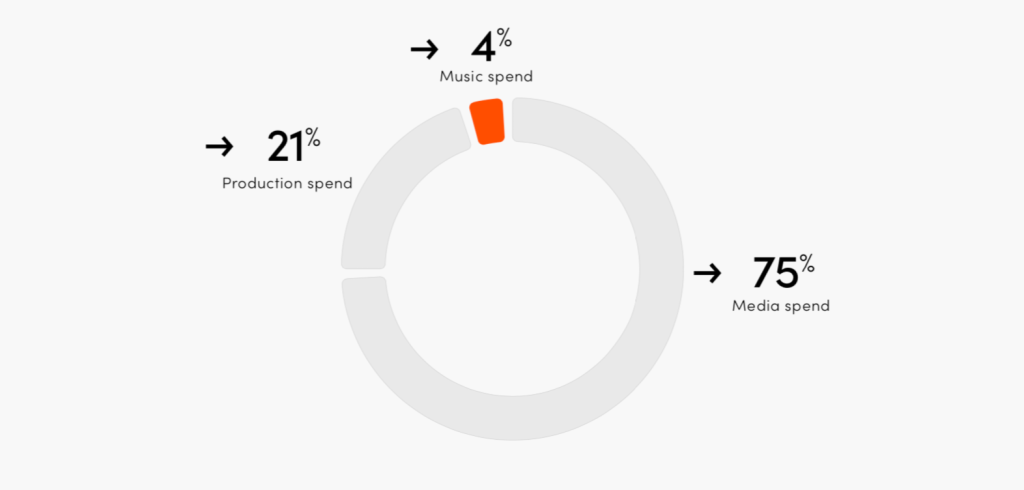 While music typically represents a small percentage of advertising budgets, Songtradr says it has the data to prove that smartly prioritizing music triggers big wins. Now, the company is trotting out research on how AI-driven music selection can help businesses gain higher brand recognition and customer loyalty, ultimately boosting revenue.
Neuroscientific research has proven that individuals react faster to auditory stimuli compared to visual ones. So far, however, those findings have largely remained academic on Madison Avenue. But could the curation of a unique sonic identity be the winning tool brands need to attain strategic business goals? And just how effective are music elements in influencing message processing?
Songtradr, a top sync-licensing company, has recently focused its research efforts on how AI-driven strategic music selection can amplify marketing efforts and deliver brands' messages more powerfully. Throughout, Songtradr's research has focused on how brands can forge deeper emotional connections with their target audiences. Just recently, the company partnered with DMN to disclose the findings across multiple reports.
To examine the connection between music and long-term business performance, Songtradr has been gathering music data for brands in the US beer and UK beauty industries. Songtradr audited individual pieces of paid and owned media used by these brands, extracting unique music tracks and feeding them into the company's AI music tagging platform.
Songtradr says its proprietary SmartMusic process merges human creativity with real-time data, AI and machine learning, and neuroscience — pinpointing the most relevant and effective piece of music to improve any brand's marketing performance.
According to Songtradr, AI-tagging technology allowed the company to analyze brands' music choices, profiling elements such as mood, genre, personality, target audience, music quality, and source of music. By harvesting this data, Songtradr could estimate variables such as category differentiation, consistency, and audience brand fit.
Analysis was conducted by splitting data into two independent streams, 'MusicIQ' and 'Brand Performance.'
Songtradr explains MusicIQ as a sonic profile for each brand — an AI-powered composite metric quantifying how strategically a brand uses music on television, radio, YouTube, TikTok, Instagram, and other 'sounds-on' media. It contained six components of music used in advertising content, which are consistency (musical coherence across brands' paid and owned media), distinctiveness (relative uniqueness to other brands' musical content), ubiquity (percentage of brands' paid and owned media containing music), source of music (licensed, stock, or bespoke), engagement (volume of attention and response), and sonic branding (formation and presence of audio identity in media).
Brand Performance assesses how effectively a brand's branding and marketing communications drove consumer behavior, such as sales, repeat purchase rate, and social evangelism. The score was calculated by conducting neuroscience experiments that collected rational (explicit) and emotional (implicit) data. This metric quantified the impact of emotions triggered by music on consumer decision-making and long-term memory encoding.
Comparing these two independent scores answered the big question: Did a brand's strategic use of music influence its market performance?
Songtradr's "Music of Beer" study assesses how specific beer brands' use of music in advertising influenced their business performance. They discovered that consistent and strategic use of music in beer branding and advertising accounted for over 33% of overall business performance.
The most successful brands used not only brand-aligned and distinctive melodies but also energetic and arousing music. Key findings of the study also revealed that brands could improve performance by taking a more strategic, consistent, and differentiated approach to music usage in advertising content. Moreover, choosing the wrong music (in terms of clashing sonic branding) could also damage brand preference.
By studying some of the most influential brands in the beauty industry from the lens of the UK consumer, Songtradr also measured the effect of music choices on a beauty brand's overall market performance.
The beauty industry relies more heavily on user-generated content, alongside influencer and celebrity marketing than any other industry. According to YouTube statistics, 86% of the top 200 beauty videos on YouTube are uploaded by individual content creators rather than brands, and 62% of women follow beauty influencers on social media. Accordingly, it's no surprise that beauty brands represent 25% of all influencer marketing activity.
This uniqueness of advertising methods revealed a significant challenge for beauty brands: how can a cohesive, distinct brand identity be established and maintained when such a wide range of third parties represent your brand? According to Songtradr, 'Strategic use of music is the answer.'
According to Songtradr, beauty brands' MusicIQ and Brand Performance displayed a strong positive correlation (reinforcing the results of 'Music of Beer'). In essence, music performance drives revenue, and consistently strategic use of music in branding and advertising accounts for 15% of beauty brands' overall business performance.
The study also made other insightful revelations. Researchers found that a hyper-focus on visual branding caused brands to blend in rather than stand out. They also discovered that none of the brands analyzed in the study leverage the true power of sonic branding.
If key findings from the two beer and beauty studies can be considered generalizable for other niches and industries, Songtradr says development and publication of curated music libraries could be the answer.
Soundtradr notes that this move will optimize production budgets, minimize brands' exposure to copyright strikes, and provide insurance against takedowns and compliance issues. A curated library of licensed commercial tracks will also ensure advertising messages are musically aligned across all various media channels — custom-fit for the target audience.
Research in consumer behavior also suggests that musical structure in marketing efforts could maximize breakthroughs, deepen emotional connection, and promote brand preference.
Songtradr emphasizes that without developing a cohesive sonic profile in advertising efforts, brands could face implicit brand confusion, fail to grab attention, and miss out on consumer engagement. To reinforce a brand's identity and index it into listeners' memory, the right music is key.
Songtradr's sync-matching technology offers this AI-driven music analysis to individual brands. The company believes that by creating a unique and memorable sonic identity, brands can win increased marketing performance, resulting in higher brand recognition, customer loyalty, and revenue.