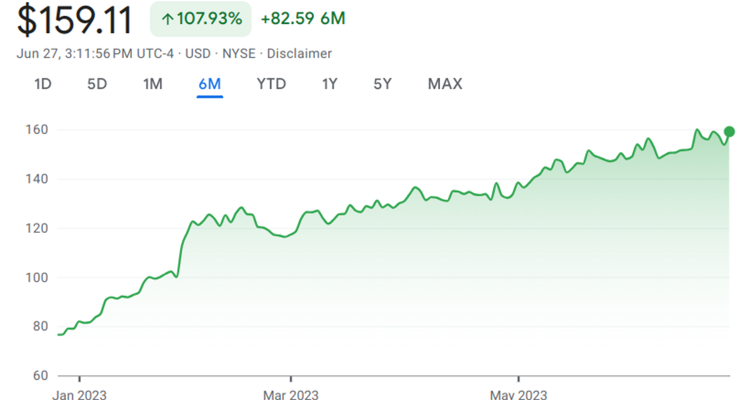 Spotify stock (SPOT) has now earned an average rating of 'moderate buy' from analysts. Shares are up more than 100% in 2023. 
SPOT stock has been showcasing a recovery uptrend for the past three quarters. The stock hit its 52-week low on November 2022 at $69.29 a share, with the stock rising 123% since then to reach its price of over $159 per share. Analysts attribute the recovery to improving fundamentals in the business as well as an industry-wide rally due to artificial intelligence. 
Analysts believe AI will play an important role in Spotify's future performance, thanks to the massive amounts of data the company gathers. It is already experimenting with an AI DJ that provides the 'feeling' of a morning DJ during a commute or morning exercise routine as one consumer-facing application of AI tech. 
The upcoming Spotify HiFi tier has also sparked hopes that Spotify will have a new revenue stream. Two years after announcing Spotify HiFi, the company is ready to talk about its new 'Supremium' membership tier. Spotify Supremium will feature lossless audio streaming and may also include audiobook credits similar to rival Amazon's Audible service. 
Spotify's monthly active users grew to 515 million as of Q1 2023, with a year-on-year growth rate of 22%. 210 million of that number are Spotify Premium subscribers, paying $9.99 monthly for ad-free listening. Spotify's management says it expects to see growth of its monthly active users to 530 million people, with 217 million Premium subscribers. 
Seven analysts have rated the SPOT stock with a hold rating, while fifteen have issued a buy rating for the company. Hedge funds and institutional investors have taken new positions in SPOT, including SRS Investment Management LLC, Norges Bank, Wellington Management Group LLP, Technology Crossover Management XI Ltd., and Alecta Tjanstepension Omsesidigt all raised their stakes in the audio streaming company based on the company's performance this year. The reshuffling of its podcast division has played majorly into the recovery as Daniel Ek admits Spotify overplayed its hand in acquiring exclusive content.