A new study performed by the National Independent Talent Organization (NITO) found ticket resellers earn an average cumulative profit of $41,000 per show.
The NITO study focused on tickets sold and resold for 65 random shows by artists represented by NITO members. It sheds light on predatory reselling practices and price-gouging that consumers feel at ticket checkout. Venues in the study ranged from 1,500 to 20,000 capacity venues. One single show from the study netted $365,000 gross profit for resellers from just 2,491 tickets at an average resale price of $210 on tickets with an average face value of $65.
NITO says it found a significant number of tickets were bought from resellers even in instances in which tickets were still available from the primary ticketer. That's because SEO optimization may place the ticket reseller ahead of the primary ticket seller in search results. Additionally, NITO found that some consumers are willing to pay a higher price if purchased directly from the primary ticket outlet—rather than purchasing through a reseller first.
NITO examined the recent tour by The Cure, comparing secondary ticket sales in states where resale restrictions are allowed with those where they are not.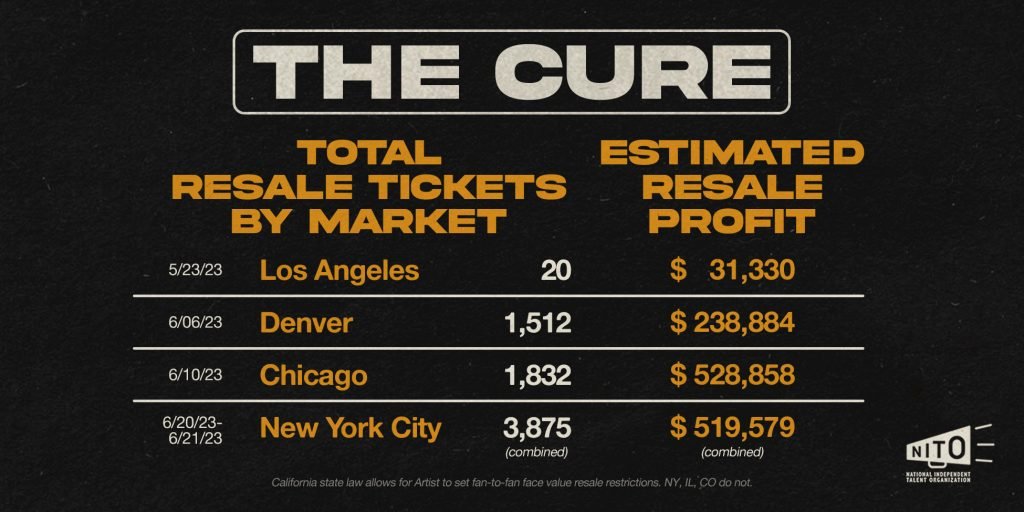 In California, where resale restrictions are allowed, the number of tickets resold and reseller profits were 92% to 99% less than in states like New York, Illinois, and Colorado—which do not allow restrictions on resale. The open resale laws in the latter states drastically limited the effectiveness of fan-to-fan exchanges, leaving fans exploited despite artists' best efforts. The Cure's resold tickets in Chicago were on average 396% higher than the face value.
A prominent country artist, who tours in stadiums and routinely keeps ticket prices lower to allow more fans to attend, had 7,767 tickets sold on the secondary market for a gross of $2,318,610.42. This artist's average ticket price is $72.16, and they were resold at an average of $298.52, a 313% markup. The artist wanted to keep prices low for fans, but ultimately only the ticket resellers benefit.
Most tickets sold on the secondary market are sold by predatory ticketing professionals with access to technology that often assures that they can buy the best tickets before fans. The secondary ticket sites use their excessive profits to push their ticket listings to the top of search results, confusing fans and stifling official ticket sales.