Amazon Music Unlimited is getting a price hike for Prime and Family subscribers. Here's the latest.
The cost of the individual plan for Prime subscribers will rise from $8.99 per month to $9.99 per month. This falls in line with price hikes across other DSPs and what the Warner Music CEO Robert Kyncl has suggested—more price hikes are on the horizon for music streaming services. The price of the Amazon Music Unlimited Family Plan will also rise from $15.99 to $16.99 per month. Annual plans will also be seeing a subsequent $10 bump across both—$99 yearly for Prime and $169 for Family.
Oddly enough, the help documents reflecting these changes are offline for now. Shortly before publishing this article, here's what the Amazon Music Unlimited Pricing page brought up in multiple browsers and networks.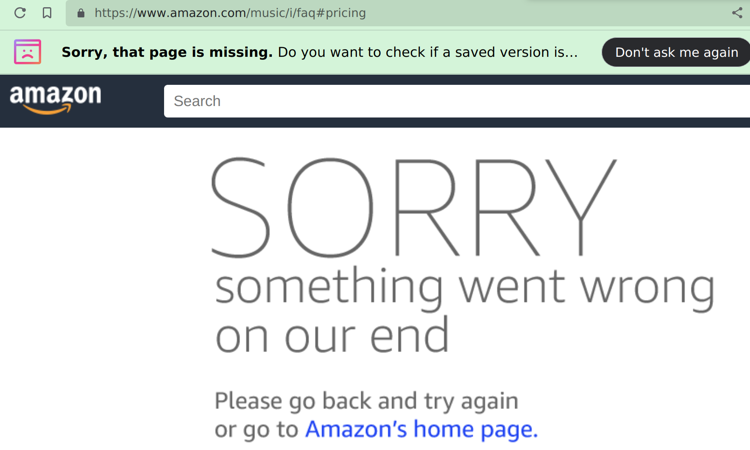 Amazon Music Unlimited increased its cost for people who were not Prime subscribers earlier this year. This $1 price increase across the board now aligns it with other price increases from Spotify, Apple Music, Tidal, Deezer, and YouTube Music Premium.
For years an unlimited music streaming subscription has cost $9.99 a month. Fair compensation for artists means that must change, but by how much? Here's Warner Music CEO Robert Kyncl's thoughts:
"If adjusted for inflation since 2011, the year that music streaming was introduced in the United States, the price of a monthly music subscription in the U.S. should be $13.25," Kyncl told investors during a recent call. He mentions Netflix's pricing increases over the same period and adds, "if the monthly price of a music subscription had gone up by the same proportion, it would have increased from $9.99 where it was in 2011—to $19.37 today."
That's roughly double the price we can expect a music streaming service to cost within a few years. But it's unclear how that same inflation will impact consumers' decisions to end subscription services each month. Some estimates suggest around 10% of consumers will look to cancel subscriptions in their 'disposable income' category.