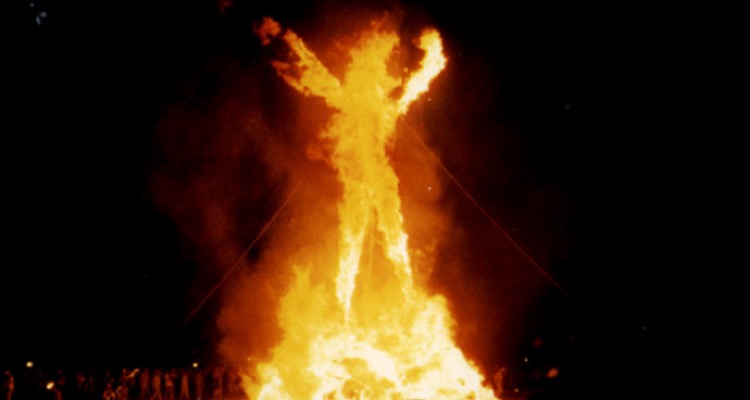 Torrential rain and severe flooding have left one person dead and thousands stranded at the Burning Man 2023 Nevada desert site. Despite challenges, organizers intend to proceed with the festival's finale 'burn' on Monday.
Torrential rains turned roads and grounds into mud, leaving thousands stranded at the Burning Man 2023 festival. Participants, known for their 'radical self-sufficiency,' faced unexpected challenges, including food and water conservation. Revelers navigated through mud, some barefoot or using plastic bags as makeshift footwear. A no-driving order was issued when the rain started on Friday, with over half an inch of rain falling overnight.
Organizers closed vehicle access on Saturday, advising those attempting to enter to return home. Persistent rain on Sunday trapped approximately 73,000 Burning Man attendees in the Black Rock desert.
Diplo, who was at the festival, managed to leave with Chris Rock. "Just walked 5 miles in the mud out of Burning Man with Chris Rock, and a fan picked us up," he tweeted Saturday afternoon.
just walked 5 miles in the mud out of burning man with chris rock and a fan picked us up pic.twitter.com/0uxSXLHgY6

— diplo (@diplo) September 2, 2023
The event started on August 27 and was supposed to end on Monday. Despite challenges, organizers intend to proceed with the festival's finale: burning a 40-foot effigy.
Due to muddy conditions and rain, equipment transport became impossible. The climax of the artistic celebration, the annual burning of a man-like figure, was planned for Sunday night but didn't occur. Officials now plan to burn the event's namesake structure at 9 p.m. on Monday, followed by another large art piece later in the evening. The burning of the temple structure will take place at an undecided time on Tuesday.
This announcement marks the second postponement of the burn, initially scheduled for Saturday night.
According to an information representative stationed at the on-site information tent, it usually takes about 12-24 hours for the ground to become suitable for driving after the last rain. The information authority mentions that when the roads reopen, the Burner Bus services will operate on a first-come, first-served basis.
The Burner Bus that shuttles to Reno and San Francisco — responsible for ferrying approximately 20,000 attendees to the event — has been temporarily postponed. When the shuttle service resumes, passengers will be grouped by their scheduled departure times, prioritizing those whose departure times have already passed. The event's airport also remains closed.

Despite the challenging weather conditions, some Burning Man revelers are still in high spirits.
Music plays in various camps, and impromptu dance parties occur under tents and in the mud. Barefoot individuals or those with plastic-covered shoes can be seen around the city. Videos on social media show costumed participants sliding through the muck.
"When you get pushed to extremes, that's when the most fun happens," Brian Fraoli, a 45-year-old veteran 'burner,' told Reuters. "Overall, it was an amazing week, and next time we will be more prepared," he said.
Information is relayed to attendees via the city's radio stations, and a citywide cheer is expected upon gate reopening.
Moreover, while misinformation regarding an Ebola outbreak has circulated on social media, experts dismiss it as unlikely, with weather-related risks like hypothermia now being more relevant.
President Biden was briefed on the situation on Sunday. White House officials have been coordinating with state and local authorities, The New York Times reports.
According to CNN, The Pershing County Sheriff's Office is investigating one person's death, which took place during the event. According to the Sheriff's office, the victim was found on the playa, and attempts to revive them were unsuccessful. Moreover, the Sheriff notes that the cause of death is unclear but doesn't seem weather-related.