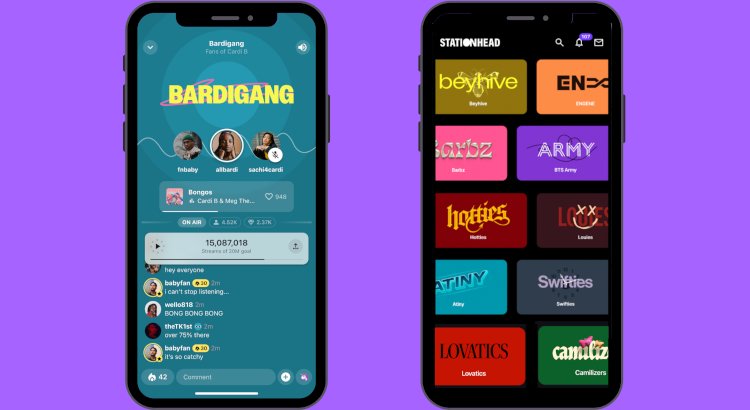 As the music industry continues to zero in on the highly lucrative artist-fan relationship, Songtradr's 7digital has partnered with social streaming platform Stationhead to help creators, labels, and publishers harness fandom and channel passionate followers' direct support. 
The following was created in collaboration with Songtradr, part of a broader partnership focused on the sync licensing and B2B music solutions spaces.  Be sure to check our ongoing coverage of the fast-growing sync sector here. 
Enabling dedicated fans to connect, interact with artists, and support artist initiatives has become the cornerstone challenge of every artist release plan. Moreover, music labels' strategies typically ladder up to two primary goals: making a unique and superior music experience for fans and creating a broad and valuable ecosystem for artists. Goldman Sachs in August predicted that superfan-focused expansions "could be a $4 billion opportunity" by 2030. 
Time will tell whether the ambitious forecast comes to fruition, but offerings designed to capitalize upon the inherent revenue potential of steadfast followers are already beginning to take center stage. In South Korea, Hybe's WeVerse is continuing to grow, and NetEase Cloud Music is among the services working to tap into fandom in China's sizable music space.
Diplo-backed Stationhead is building upon its innovative social streaming features in partnership with Songtradr company 7digital, to power a live commerce tool in the US and a growing list of countries. This tool will allow fans to purchase tracks through "stations" featuring listening parties and release events, all powered by 7digital's pass-through licensing and API platform.
Utilizing their own Apple Music or Spotify subscription – protected audio isn't hosted on Stationhead itself – supporters can interact while enjoying music together via stations. Hosts choose tracks and guide the virtual happenings, during which they (and selected listeners) can "go live" and address those present. 
Stationhead, underscoring the far-reaching possibilities of coordinated, concert-like group listening, monitors the associated plays in real time. Though the significance of racking up thousands or even millions of streams goes without saying, the impact of 7digital-driven downloads also lays the groundwork for revenue and chart traction for artists. 
To be sure, the tie-up makes it easy for committed fans to buy songs on Stationhead in an engaging live environment, with 7digital then reporting the purchases for charting. Providing advantages on all sides – including substantial results for artists as well as a straightforward means of contributing to career milestones for fans – the feature has proven successful out of the gate. 
Stationhead events have directly contributed significant sales for records from artists such as Cardi B, Shawn Mendes, and Ed Sheeran, with other events selling tens of thousands of records alone. 
In addition, Bebe Rexha, Mariah Carey, and Latto are among Stationhead's users, with others having specifically utilized the download feature during release parties. Stationhead consumption currently impacts charts in the US and Canada, and the platform plans to expand to additional markets moving forward.
Beyond the clear-cut perks of boosting consumption and awareness, Stationhead says it's effective in attracting new supporters and, in turn, bolstering fan communities. In the long term, these communities could serve as the foundation upon which game-changing promotional initiatives are based, with artists, labels, and publishers securing material listenership and fandom from relatively small investments. 
"We've become a top choice for artists and labels worldwide when it comes to global album releases and tour announcements. Our platform empowers them to activate their fan communities, boost revenue streams, and steer the trajectory of their marketing efforts," explains Ryan Star, CEO of Stationhead. "At Stationhead, our purpose-built platform allows fans to actively support artists in achieving their dreams, fostering collaboration for success. Moreover, it directly connects artists with their most dedicated fans, who have often been lost in the vast expanse of the internet."
Shorter term, the considerable interactions and downloads facilitated by 7digital and Stationhead are affording stakeholders unprecedented insight into consumption trends and marketing campaigns. 
According to higher-ups, the platform's data-driven approach to engagement provides a comprehensive look at the numbers behind fandom – valuable information that can guide future releases, tours, and much more. 
Ultimately, bringing together superfans and developing strong artist communities through social audio represents an opportunity to thrive in a multifaceted and increasingly crowded global music industry. 
If vinyl's resurgence, the emergence of platforms like TikTok, and the advent of streaming itself are any indication, there's no telling which innovations the coming years will usher in. For multiple reasons, nurturing and monetizing a strong community of fans appears a worthwhile step against the backdrop of rapidly evolving music and entertainment landscapes.