Who owns the Spotify 'Billions Club' playlist? Here's a quick breakdown of ownership of these 500+ songs. Let's take a peek.
Spotify first launched the 'Billions Club' playlist in 2021 to keep track of all songs that have crossed the one billion streams threshold on the service. As of November 2023, 511 songs have achieved this milestone thanks to dedicated fans and savvy marketing teams.
The top ten most streamed artists on Spotify dominate the list in 2023. Taylor Swift remains the most streamed artist on the platform, with 108 million monthly listeners, followed by Canadian superstar The Weeknd with 104.16 million.
Artists with Most Monthly Listeners (Millions)
Taylor Swift | 108.06
The Weeknd | 104.16
Drake | 83.76
Bad Bunny | 82.19
Rihanna | 78.66
Ed Sheeran | 74.81
Justin Bieber | 74.05
Doja Cat | 70.11
Dua Lipa | 67.25
Billie Eilish | 67.14
Each of these ten artists dominated the most-streamed artists for 2023 so far. How many of these artists feature in the 'Billions Club' playlist? Several of the artists appear below the top ten most monthly listeners for November 2023, but may have writing or performing credits on another massively popular artists' track.
Who Has the Most Songs on the Billions Club Playlist?
Drake | 13
The Weeknd | 11
Ed Sheeran | 11
Post Malone | 10
Ariana Grande | 10
XXXTENTACION | 10
Bruno Mars | 10
Maroon 5 | 9
Coldplay | 9
Eminem | 8
Each of the artists who appears in the Billions Club playlist has multiple songs under their credits to get them there. Every single artist who appears also appears in the Top 50 most streamed artists for 2023 with the exception of XXXTENTACION—who has sadly passed away. (He does appear in the most followed artists list for 2023, however.)
So how does the ownership breakdown of this playlist look? Who owns the Spotify 'Billions Club' playlist?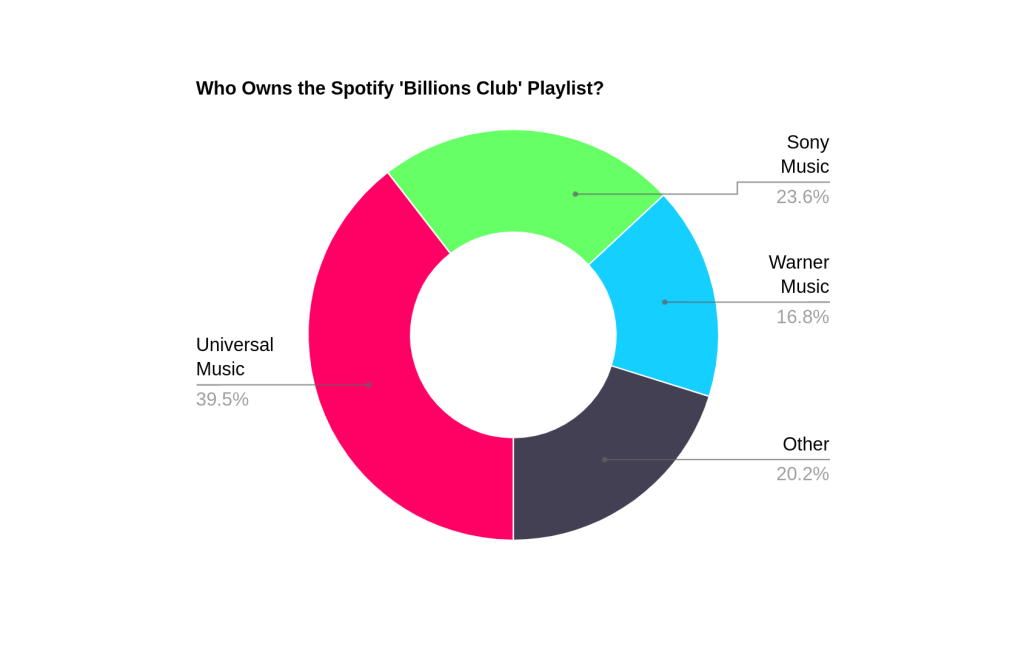 The breakdown of major ownership shows Universal Music Group dominates the playlist with 198 songs (39.5%). Sony Music follows with 118 (23.6%) and Warner Music with 84 (16.7%) songs. 101 songs that appear on the list aren't owned by one of the 'Big Three' music labels—meaning 20.2% of the 'Billions Club' playlist music is not affiliated with a major music label.