Wall Street remains mostly unimpressed, but by music industry standards, this is a moment.  On Tuesday, Pandora revealed something remarkable: profitability, at least for a fleeting three months.  During its latest quarterly wrap-up today, Pandora (P) reported a slim profit of $638,000, a reversal from a year-ago decline of $1.77 million.    The number translates into break-even on a per-share basis, and solidly beats a year-ago per-share loss of 15-cents.  And, it was enough to beat analyst expectations, thanks to more-than-doubled revenues of $75 million.   That in turn was based on a monstrous total of 2.1 billion listening hours – over a mere three-month period (ending October 31st, which is technically 'Q3Y12' on Pandora's books).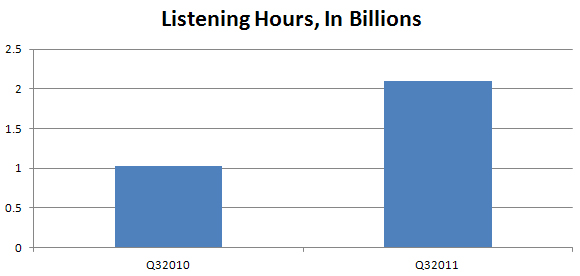 All of which is giving Pandora a greater share of the US-based internet radio pie.  But it also helps to validate Pandora's belief that on-demand platforms like Spotify are not creating a usage dent.  In fact, the impact may be negligible: Pandora's active users now stand at 40 million according to the company, a 65 percent year-over-year gain. On top of that, Pandora is starting to 'crush it' when it comes to US-based internet radio share.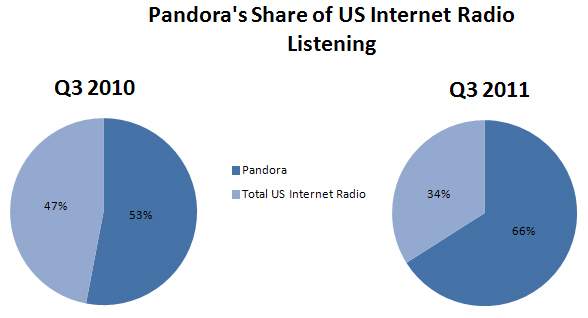 On the grander stage, Pandora now claims a 4.3 percent share of overall radio listening (terrestrial + internet + whatever), more than double the piece from last year. All of which looks quite impressive, though shares actually declined on the news, thanks to a forecast that includes more losses in the current quarter.  Unfortunately, this is one IPO that's officially lost its sizzle, but not its prospects for long-term survival.   The complete earnings report is here.