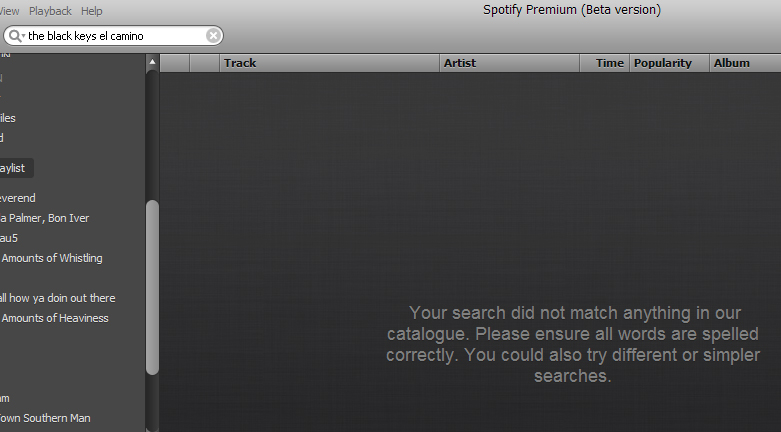 The latest Black Keys album, El Camino, is not available on Spotify, Rdio, or Rhapsody, despite an official release on December 6th.
The album is, however, available and well-positioned on the iTunes Store and Amazon MP3, and early sources to Digital Music News are pointing to a Coldplay-like licensing refusal.
Updated, 5 pm PCT, Thursday: Rdio, MOG, and Spotify have all confirmed the band's decision to withhold their latest album from the respective streaming services. We have not heard back from the label, management group; the original article is below.     
Just like Coldplay, earlier albums are available across various streaming services, at least for now.  But most fan attention is now focused on the latest release.  This is the post on the Black Keys official page.
This is also the situation in Canada, according to one source planted up north, where the latest album is available on download stores like iTunes and Puretracks by not Rdio (Spotify is not available in Canada yet).  In both regions, fans on streaming services can access one single from El Camino, "Lonely Boy," which was also released on vinyl over the Black Friday weekend.
So, is this another Coldplay rerun?  According to one source tied into the discussions, yes, though it's unclear if the Black Keys are planning a delayed release on streaming services.  In other words, the 'digital windowing' strategy often discussed (and feared).
We're awaiting comments back from Spotify, Rhapsody, Rdio, Warner Music Group, and the band's management on the matter.  Inquiries were first sent Tuesday morning, and Spotify, Rdio, and WMG told Digital Music News that responses are forthcoming.