Is internet radio completely broken?  It's getting harder not to ask that question: Pandora is one of the biggest streaming radio services on the planet, yet it's struggling to pay its royalty bills, it can't even enter the UK, and it can't convince Wall Street to take it seriously.  And now, the company is telling Wall Street that it's unlikely to be profitable until at least early 2013 – that is, best case scenario.        But is this really Pandora's fault? You can argue all day about what a content owner deserves to be paid.  But what if it's simply impossible to build a business around those rates?  This is what Pandora warned investors as part of its annual SEC filing, released just days ago.
"Since our inception in 2000, we have incurred significant net operating losses and, as of January 31st, 2012, we had an accumulated deficit of $101.4 million.  A key element of our strategy is to increase the number of listeners and listener hours to increase our market penetration. However, as our number of listener hours increases, the royalties we pay for content acquisition also increase. We have not in the past generated, and may not in the future generate, sufficient revenue from the sale of advertising and subscriptions to offset such royalty expenses.
As a result of these factors, we expect to continue to incur operating losses on an annual basis through at least fiscal 2013 [ie, January, 2013]."
Part of the problem is that Pandora derives 87 percent of its revenue from advertising, according to figures shared by the company in March.  Pandora's been trying (rather unsuccessfully) to diversify into premium subscriber services, but it also finds itself dealing with considerable consumer resistance to paying for music (and especially radio) online.   On top of that, Pandora is dealing with SoundExchange royalty structures that seem to be killing – not facilitating – the online radio market.  And this is just horrific math: streaming rates are increasing, not decreasing, and the more listeners Pandora acquires, the greater its royalty obligations become.  Which means that if per-stream royalty rates aren't reexamined or restructured, one of the greatest companies to enter this space may simply be unable to survive long-term.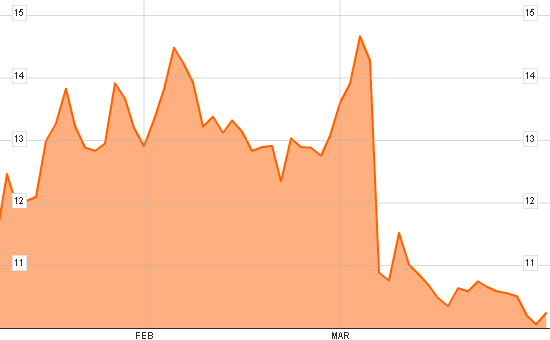 (chart by Bloomberg)