Every artist deserves to get paid, but when does a sponsorship deal blur into a sellout? At what point do you cross the line, making fans question your credibility entirely?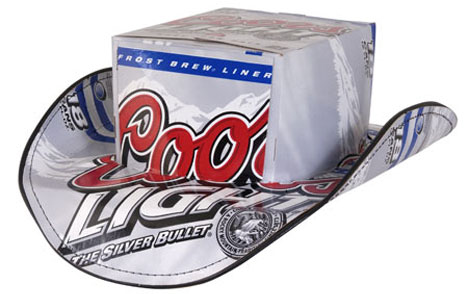 The questions are worth asking for Jason Aldean, who now seems more like a Coors Light lapdog than a self-standing partner.  In late July, Coors actually got Aldean to change the lyrics of his upcoming single, "Take a Little Ride," and replace the older version to erase all references to Shiner Bock. "Jason Aldean is in the process of signing an endorsement deal with the Coors Brewing Company," Aldean's team wrote to radio stations.  "With that, he has changed the 'Shiner Bock' line in the song 'Take A Little Ride' to 'A Couple Rocky Tops'.  We respectfully request you exchange this version with the one you are currently playing."
Now, the deal is being officially announced, with Aldean looking more like a singing billboard than a rugged, individualistic country star.  The altered song, "Take a Little Ride," is now marching up the charts, complete with the Coors lyrical reference.  And Aldean is effectively marrying this brand of beer (Shiner was just a fling).  "Coors Light is associated with so many of my favorite experiences," Aldean gushed this week.  "Tailgating before University of Georgia games, vacations to the beach with my friends, playing bars and clubs when I was coming up in my career.  This was a no-brainer partnership for me, and I'm especially looking forward to the fridge full of Coors Light they promised all of us for the road."
So why should artists have to worry about this at all?  This isn't indie rock, but it also isn't rap.  And the question is whether this level of hyper-branding is ultimately worth it, especially for an artist with long-term career aspirations.  As part of the campaign, Coors will be co-branding the promotional push for Aldean's latest album, Night Train, most notably at shopping hubs like Walmart.  All of which makes Aldean a 'brought to you by' artist, and not just on the recording side.
Tellingly, Aldean is currently playing dates on his 'My Kinda Party Tour presented by State Farm…'