Who do we have to thank for our modern, digital music market?  That would be Apple, but more specifically the iPod, according to top industry analyst Mark Mulligan.  And, once sales of iPods started tapering off, so did the explosive growth of the digital assets.
"As soon as iPod sales slowed, so did the digital music market," Mulligan relayed.  "Prior to 2008 the digital music market had grown by an average annual rate of 85.2%, after 2008 that rate dropped to 7.5%.  In many markets the 2009 slowdown was of falling-off-a-cliff proportions: in the US digital growth slipped from 30% in 2008 to a near flat-lining 1% in 2009."
Which means, we actually have a serious growth problem, right now.  Here's a look at digital music sales alongside iPod sales, using IFPI and Apple-supplied stats (and posted on Mulligan's blog).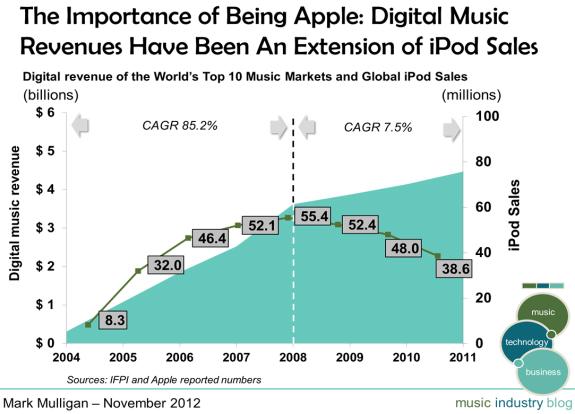 Of course, portability has grown vastly more complex in the post-iPod era, though the iPod is still a very functional app in iPhones.  Androids have full-service music functionality as well, but according to Mulligan, it's not the same thing.  And the net result is a non-dynamic, sputtering digital music market, one that really needs another 'iPod moment' more than anything else. "With all of the talk of streaming services and the shift to the consumption era it is easy to think of Apple's iTunes Store as yesterday's game," Mulligan relayed.
"Such an assumption is as dangerous as looking upon the CD as an irrelevance in the present era.  The CD and iTunes combined account for approximately 78% of total recorded music revenue in the world's 10 largest music markets.   And yet neither look like they are going to provide the momentum the music industry needs over the next few years."