Intro
Today I'll be reviewing two pairs of high-end, audiophile focused in ear headphones.  The custom fit Ultimate Ears UE 18 Pros and the universal fit UE 900s. I think they are both great depending on your budget and specific tastes in music. I hope that you enjoy reading this and find it helpful if you're currently considering either one of these pairs of in ear headphones.

At NAMM & Company Background 
One of my favorite experiences at NAMM was the Ultimate Ears booth.  Prior to arriving, I had been contacted by a representative from their company offering to give me a free scanning of my ears for custom fitting in ear monitors.  They provided me with two pairs of headphones for review, the UE 900s and the UE 18 Pros.
I want to thank Ultimate Ears for providing me these headphones, especially since I made it clear that I could not guarantee a positive review. I was firm in my statement that I will be reviewing each product honestly.
The ear scanning process was actually really interesting.  You get to see exactly what the scanner sees in real time and you get to see a 3D image of your inner ear.  I thought it was cool and it only took about 10 minutes.  Here's what the inside of my ear looks like… in case you're into that sort of thing.
[Quick tip: If you are ever planning on getting custom fitted for in ear monitors, I suggest getting some ear cleaning solution and using it at home prior to the fitting, just in case you have any wax buildup because removing it is necessary to get a proper scan.]

Before the scan took place, I was briefed on the company history and some of the products that Ultimate Ears offers for IEMs (we didn't discuss their Bluetooth speakers at all).  The founder is named Jerry Harvey who has been an engineer for Van Halen, Kiss, Morrissey, the Cult, the Knack, David Lee Roth, Mötley Crüe, k.d. lang, and Linkin Park.  He invented the Ultimate Ears in ear monitors in 1995, while working for Van Halen. The drummer, Alex Van Halen said he was hearing too much volume from the stage monitors and it was making it more difficult for him to play. Jerry then created his first pair of IEMs which isolated noise, as well as improved the clarity he could hear from his drumming.
I also learned that Ultimate Ears had partnered with Capitol Studios to create a reference model of IEMs, and they were eager for me to try them out.  I was really impressed by the presentation and packaging of the product, but it wasn't the ideal model for me because I personally enjoy the EQ of non-reference based headphones. Then again, I don't mix audio.
The Demonstration
After the scan, I actually got to demo the various models Ultimate Ears offers through an extremely clever way they were presenting them.  They had iPads running custom software next to iPod touches that had music for the comparison.  You could also unplug the iPod and use your own device, which I did since I had my phone with my USB OTG adapter and could compare the models using high-resolution audio and even some DSD files and run it through my AudioQuest Dragonfly DAC/headphone amp.
The presentation had me wearing demo IEMs that let me select from the different UE models and actually hear what they would each sound like. Once selected, the change was instantaneous and I spent about 20 minutes comparing different genres of music using different pairs of IEMs, all just by tapping the model on a screen.  It was really cool and I thought it was innovative and effective for figuring out which model I liked most.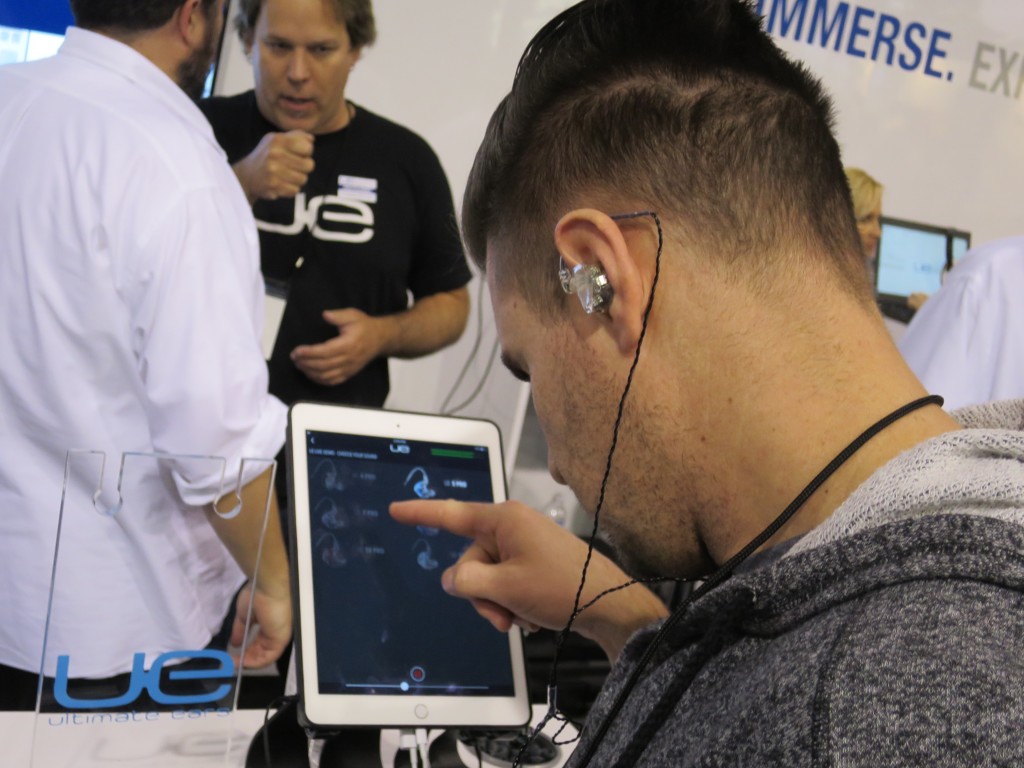 I most enjoyed the listening experience of the UE 18 Pro model.
Comparing the Two Models
I enjoyed both of the models but there were definite strengths and weaknesses in each.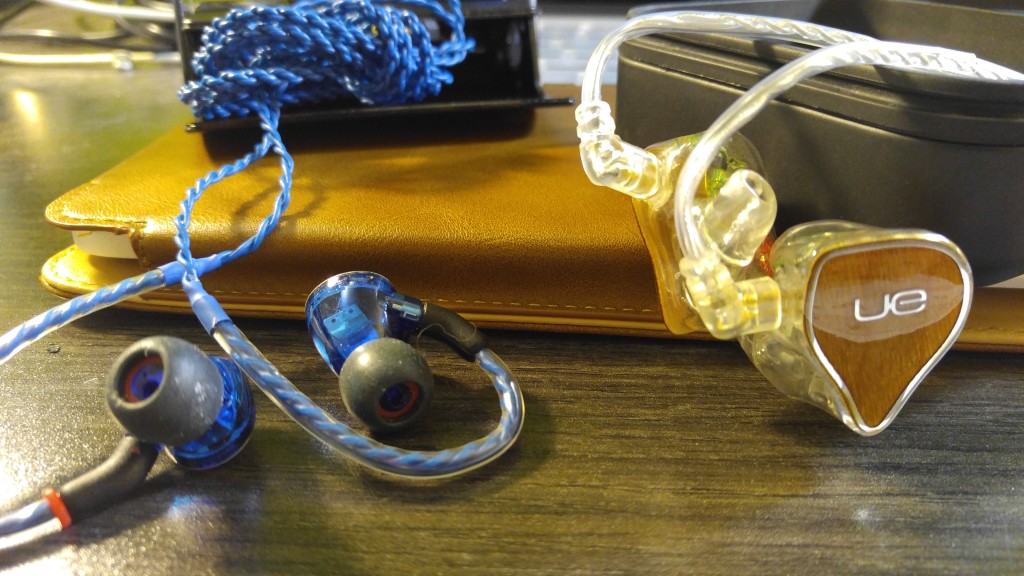 I felt the UE 900s are a great pair of IEMs for those who listen to electronic music.  They had a fairly balanced tone that was not overly exaggerated.  I did notice it was stronger in the mid- and mid-to-low range than it was in the highs. The mid highs were not quite as clear as I would have preferred, but still definitely acceptable. They also performed well with rock music and rap.
The UE900s are the only offering from Ultimate Ears that are universal fit and not custom molded.  Ultimate Ears previously had more models that were universal fit and lower-end, but the company decided to discontinue those in order to focus more on the high-end market.

The packaging and presentation is really well done, and you are given more tips for ideal sizing than you will probably ever need, but it's a nice touch.  Despite the options for tips, its really hard to find a comparable fit to the customs.  Thats not a knock on the 900s, I don't think any universal pair could match that level of comfort.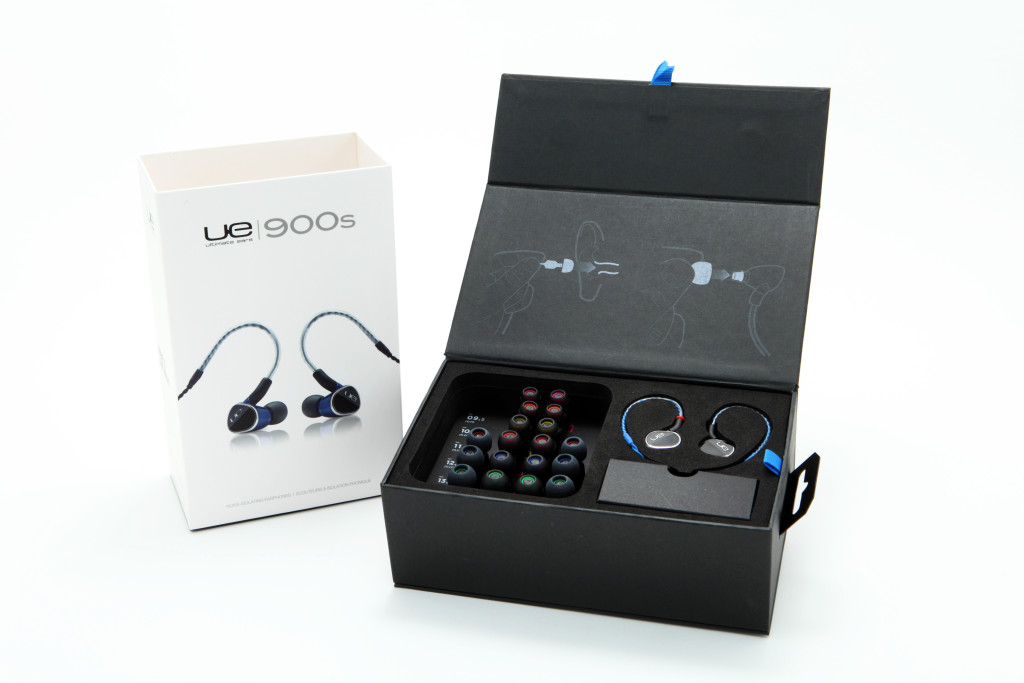 The case that was included was nice too, I like that it's not as bulky as my other IEM cases tend to be. However, I feel that the way the headphones have to slip into the case combined with how it opens and closes is a bit more annoying than it would have been had it opened like their older cases.  I found the cable would often get in the way of the case completely closing.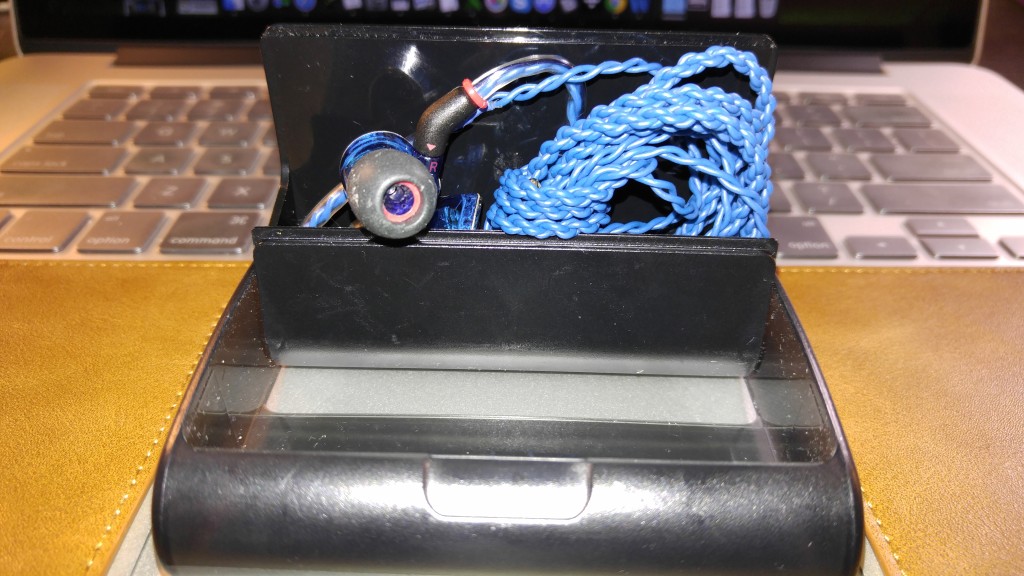 It's understandable that the UE18 Pros outshine the 900s in terms of sound quality.  They have 6 armatures per ear, compared to the four per ear in the 900s.  They were also much more balanced.  The 900s have a dual low-end armature that does slightly overpower the lows so they cover the highs, which is why they may have seemed a bit weaker in that range.  This also is why I'll be recommending the 18 Pros more for fans of rock music.  I also liked the case a lot for the 18 Pros.
It was a nice touch that my name was on the case of the 18 Pros.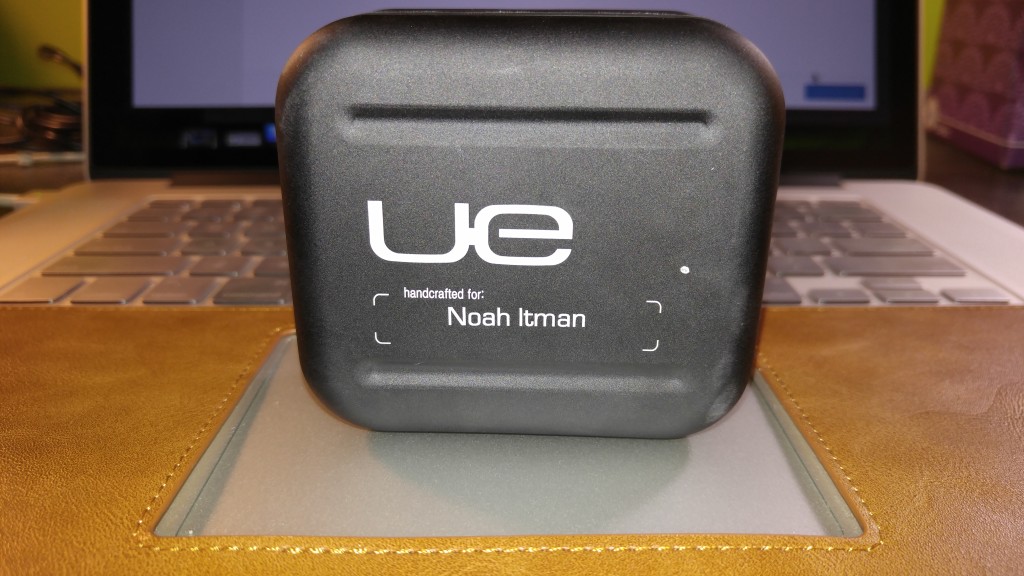 The 18 Pros have truly been a joy to listen too, regardless of the genre of music I was hearing through them.  There is however more work involved with maintaining them because of the custom fit nature of the pair. They need to be cleaned nearly every time you use them, even if you are very hygienic and Q-tip regularly.
They do come with a handy tool for keeping them clean at least.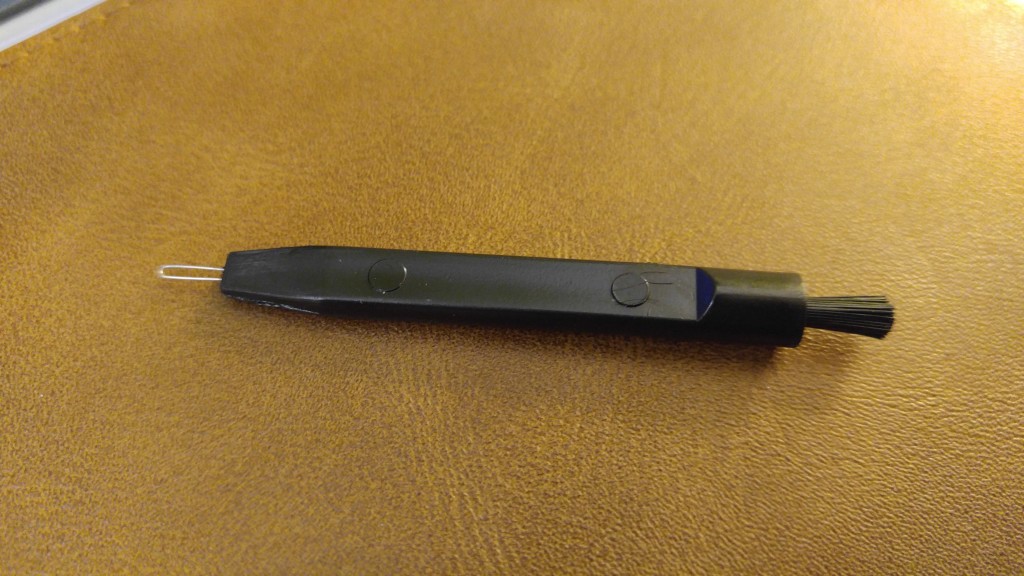 Value
It's genuinely hard to recommend either pair based purely on their cost/value comparison unless you are price insensitive for the 18 Pro model or you really prefer the fitting options and out-of-the-box usability of the 900s and want a behind the ear looping IEM.  I prefer the sound quality of my Grado GR8s which only need a single moving armature to produce a more natural and balanced sound, while coming in at $100 less than the UE 900s. You can read my review of the Grado GR8 in ear headphones here (as well as learn why buying fashion focused/'trendy' headphones is never a good investment).
Both models come with durable, braided cables but you get an extra replacement cable with the 900s. The replacement cable does not have a microphone or volume buttons although the stock cable does.
Interestingly enough, the packaging and presentation of the 900s surpassed that of the 18 pros.  I believe its because they are intended to be on store shelves instead of being available through order only.
For the 18 Pros, I love the way these sound!  But at a retail price of $1,350, they just are really expensive.  If you're price insensitive and don't mind paying the premium, then I do recommend these.  It would be great if there were ways to try them out in the same way I got to at NAMM for those who didn't attend that event, but if you're an audiophile, I'm sure you'll be satisfied with how they sound.

The headphones also have my initials on the inside where they indicate which is right and left.  They used red for right which I like since its familiar to speaker setups via RCA cables.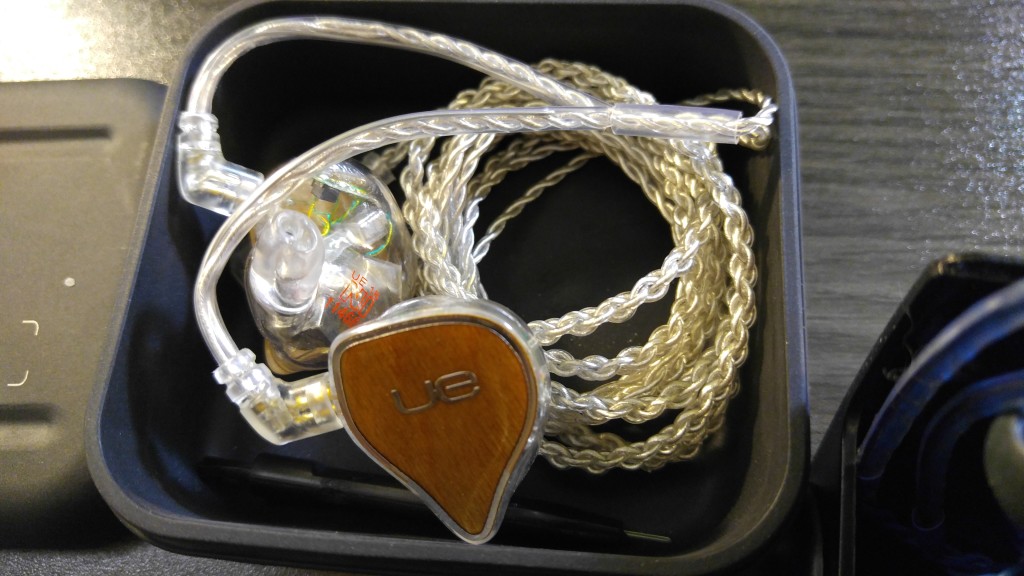 Likes/Dislikes
The fidelity on the 18 pros is breathtaking.  I was listening to "Heart Of The Sunrise" by Yes as it's a standard for my testing and I was beyond impressed by the clarity of the vocals using this pair of IEM's. It seemed that the six drivers inside were able to provide an astounding level of depth I was able to hear in Jon Anderson's voice whereas I normally hear mostly the higher range of his vocals and I don't get to experience the airiness and full cadence of his voice.  The bass line in that song was punchy and satisfying and the harmonics from the synths, pianos and keyboards were all perfectly nuanced while remaining clear and not hidden in this otherwise busy song.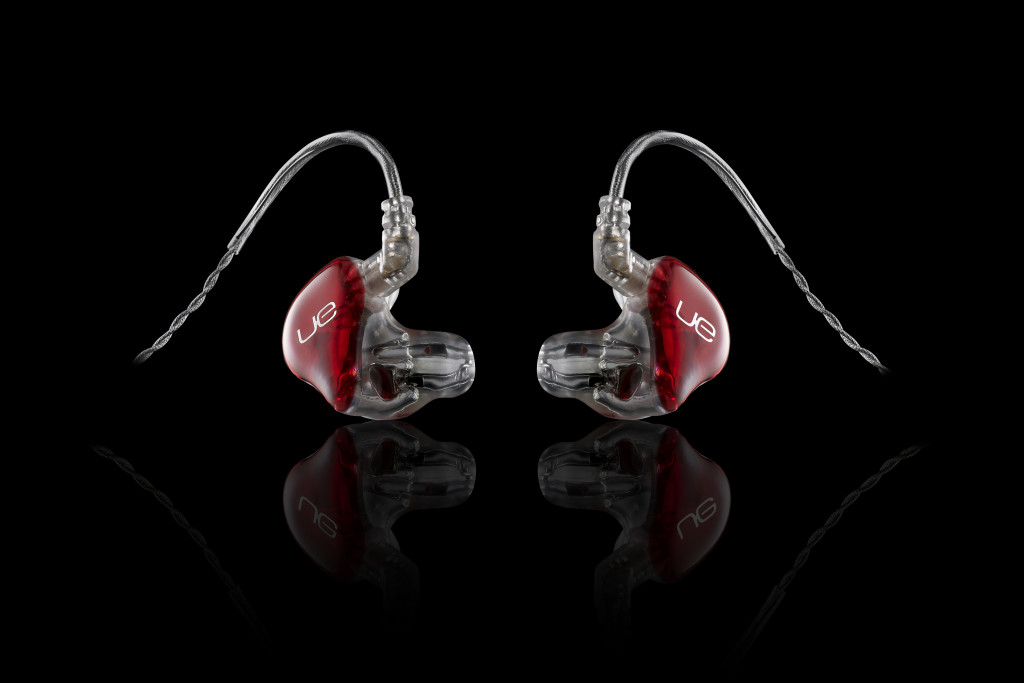 There is really nothing I can think of that I did not like when it comes to sound quality on the UE 18 pros. As I mentioned previously, there is a good deal of maintenance and cleaning but that's due to the custom molded nature of the headphones and I don't blame the brand for that in any way, especially since they include a cleaning tool.
For the UE 900s, I enjoyed them but the quality was noticeably less than the 18 Pros.  This is completely understandable given the $1,000 difference in price, so I'm not considering it a negative.
I particularly enjoyed listening to synth heavy electronic music with this pair. The song that immediately stood out to me as a great song to highlight the quality of this pair was "Lions on the Astroturf" by ZibraZibra.
The 900's also were very enjoyable for rap music.  I particularly enjoyed the melodic and not overly bass-y sounds of Jay Z's "Blueprint 3" and this pair of headphones allowed me to enjoy all of the complexities within each beat.  I also listened to the song "Last of a Dyin' Breed" by Ludacris featuring Lil Wayne because it's the kind of rap song with very heavy bass and that sounded good too.

When it comes to rock, this is where I start having a harder time recommending this model.  The rock just didn't feel as lively or natural as it does when I'm listening through my Grado GR8s.  However, if you listen to more EDM or hip hop, I definitely recommend this pair of headphones.  If you're upgrading into the world of Hi-Fi from a fashion brand like Beats or Skullcandy you will be immediately impressed and I think very happy with your purchase.
The braided cable seems to always undo itself when wound up, unless I tuck the 3.5mm jack into the cable which seems a bit less annoying at times. Its far from being a deal breaker but I felt it was worth mentioning.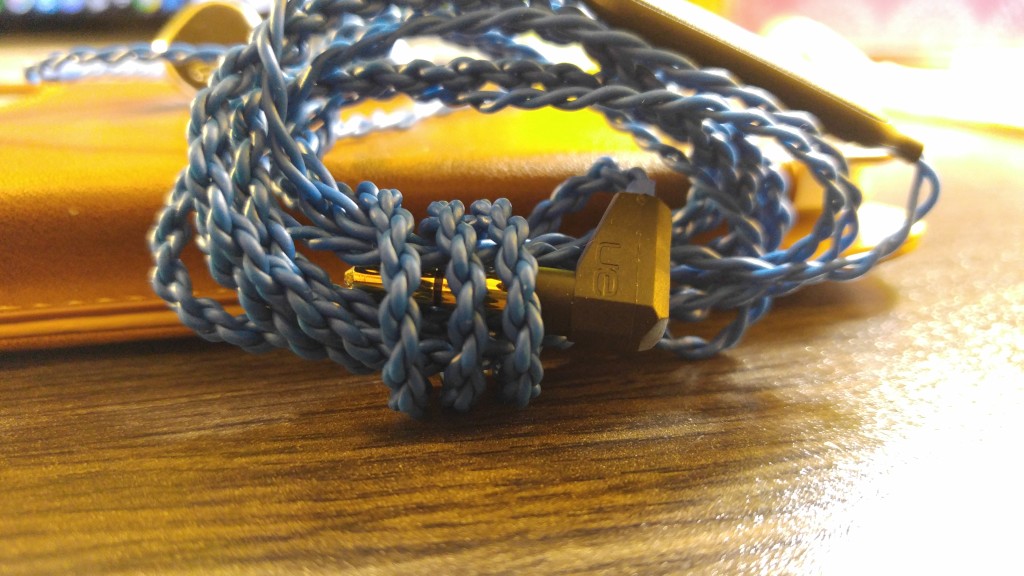 Do I Recommend Them?
In short, yes I do. Both pairs are really suited for a different kind of listener and their price points make that apparent.
The UE 18 Pros are some of the best in-ear headphones that money can buy. They'll satisfy even a discerning audiophile with their quality, you can customize them to look pretty much however you want and they are not uncomfortable since they are molded to your ears.
The 900s, while I still recommend them, I think they have a very specific ideal demographic. That being someone who is making their first or second upgrade into higher end and higher fidelity headphones who is not fooled by the fashion brands that claim there quality is higher than it truly is. Someone who doesn't want to get custom fit IEMs and someone who likes rap/hip hop and EDM more than they like rock music will enjoy this pair.
It ultimately comes down to what prices you are comfortable with in your search for a good pair of in ear headphones.
Professional Use For Musicians
It's worth noting that you can get custom fit IEMs for $399, the Ultimate Ears UE 5 Pros.

If you're a stage performer and need an in ear monitor, they offer additional noise isolating features and can be a great way to hear the whole mix.
Specs
UE 900s
Earphone type: In-ear
Internal Speaker Configuration: 4 proprietary precision balanced armatures
Sensitivity: 101.2 dB (50 mV, 1kHz)
Frequency response: 20 Hz – 20 kHz
Impedance: 30 ohms, 1 kHz
Ambient Isolation 26 dB
Input Connector: 1/8″ (3.5 mm) gold plated
Cable Lengths: 1219.2 mm (4 ft)
Sensitivity (mic): -58 dBV/Pa
Frequency Response (mic): 100 Hz – 10 kHz
Weight (cable and earbuds w/ eartips): 17.7 grams
UE 18 Pro
Earphone type: Custom Molded In-ear
Internal Speaker Configuration: 6 balanced armatures and 4 passive crossovers.
Sensitivity: 115 dB @ 1 kHz, 1mW
Frequency response: 5 Hz – 22 kHz
Impedance: 21 Ohms@ 1 kHz
Ambient Isolation: -26 decibels of ambient stage noise.
Input Connector: 1/8″ (3.5 mm) gold plated
Cable Lengths: 48" – 64" depending on your choice