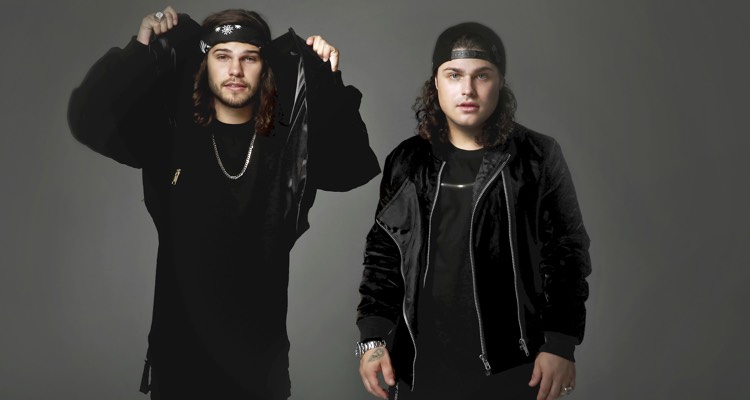 Oh, f&^k…
Sounds like Canadian duo DVBBS is having a pretty outrageous tour, though let's hope that nobody dies.  According to reports bubbling out of Hungary, a cleaning crew discovered not 5, but 6, attractive members of the opposite sex backstage at the Balaton Sound festival.  That is, passed out, long after the last set was finished.
Three were completely obliterated, while three others apparently regained consciousness and scampered before authorities arrived.  Medics were dispatched to the scene of debauchery and moral depravity, with some taken to the hospital but none requiring any serious care.  None seemed to remember anything about the night before, including anything involving 'moderation'.
Some of the girls were apparently in the front row at the show, according to local reports, though DVBBS is denying any link to the individuals.  Which is a little strange, because they were all found in a restricted dressing room area belong to… DVBBS.  So either these guys were playing Pokemon Go in the corner after their set, or genuinely had no idea what happened.  "We are shocked that some attendees of the Balaton Festival were victims of events which got them hospitalized," a statement from the group read.  "Police asked our cooperation for the investigation and of course we did what we could."
Maybe DVBBS is smarter than they look.  "Police confirmed there isn't any link between us and what happened, that's why we took off a couple of hours later to our next gig in Ibiza," the statement continued.
But here's where things hit a snag.  In their haste to get the f—k outta dodge, the duo got busted for possession of drug paraphernalia and/or marijuana at the airport in Budapest (yeah, it's far from Colorado).  Which led to an extended remix statement: "There is another case going on independently from this in connection with marijuana and we gladly answer all questions regarding this and help the police to solve the case. Our thoughts are with the victims and their families. Alex and Chris (DVBBS)."
On a more serious note, we haven't heard anything related to sexual misconduct, and the group was cleared by local police.