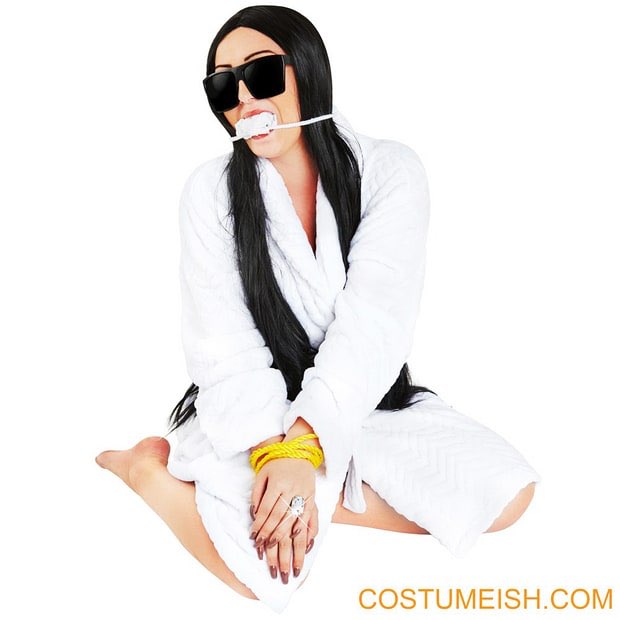 Too soon?  Apparently not for Halloween site costumeish.com, which rush-released this Kim Kardashian "Parisian Heist Robbery Victim Costume Kit" this week. So far, no reaction from Kanye West or the Kardashian camp.
Looks like more than just five robbers are cashing in on Kim Kardashian's Parisian jewelry heist.  Just one week after the alleged break-in, at least one Halloween costume has emerged poking fun at the incident.  Halloween site Costumeish.com has concocted this get-up for October 31st, while creating their own 'break the internet' moment.
Reactions were swift, with Costumish.com apparently spooked enough to remove the costume.  Currently, the original link to the costume simply goes to the main page, though it's unclear why the company made the decision to completely eliminate the costume.
The $69.99 costume features all the elements of the reported heist, including:
white robe
$4 million + diamond ring
a black hair wig
rope to 'bound and gag' the victim
… and pair of sunglasses
The costume site also pushed outfits commemorating Cecil the Lion and Caitlin Jenner, though the backlash against those was potentially more subdued.  But whether Costumeish is selling the Kardashian costume or not, this is an incredibly easy costume to create.
Which of course means you'll be seeing lots of 'bound and gagged' Kim Kardashian costumes in about two weeks.  In fact, most people will be able to slap one together for about $20.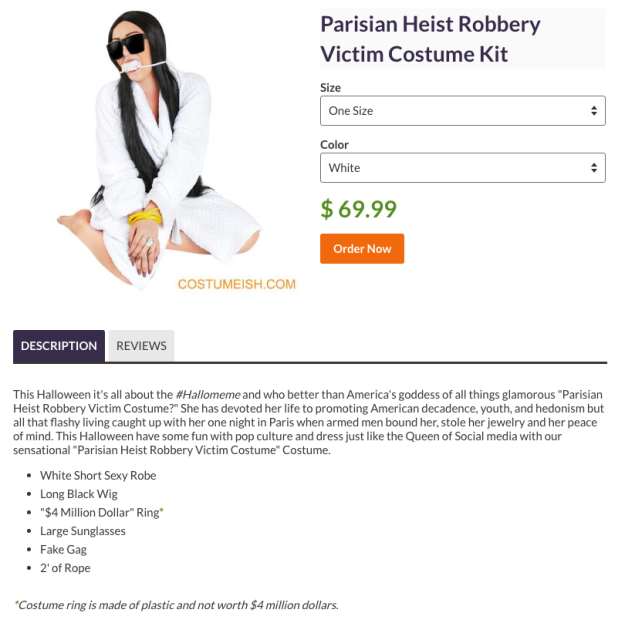 Meanwhile, Costumeish pulled no punches in its costume description.  "She devoted her life to promoting American decadence, youth, and hedonism, but all that flashy living caught up with her one night in Paris when armed men bound her, stole her jewelry, and her peace of mind," the site chides.
That drew split reactions, with many declaring the costume tasteless and insensitive.  Others lauded the costume, and celebrated its irreverence.
Meanwhile, a substantial group still questions whether the entire crime was fabricated, including US Supreme Court justice Stephen Breyer.  So far, French police have offered no leads or even known suspects.