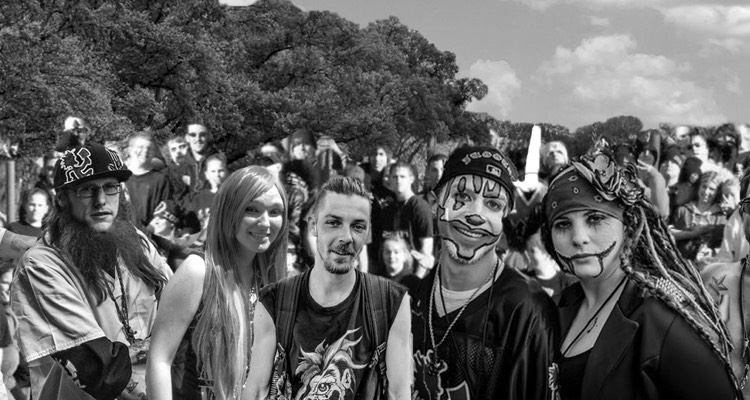 Trump's Inauguration is over.  So is the Women's March.  Can DC handle the Juggalo March on Washington?
How many mobs can one city sustain?  After back-to-back, highly-politicized events, Washington is will soon receive another.  According to the mob known as the Juggalos, a massive rally is definitely happening.
And these people are pissed.  The Juggalo March on Washington may attract hundreds of thousands of Juggalos, from all parts of the country.  As of now, the event is slated for September 16th of this year.
Who are the Juggalos?
If you ask the FBI, you'll learn that the Juggalos are a dangerous, rogue group of people.  In fact, the FBI has classified the group as a 'loosely organized hybrid gang' for years, a status the group hates.
Or, loves.  At the center of the Juggalos is ICP, or Insane Clown Posse.  The duo not only has a fanbase, they have a hardcore following.  And their 'us vs. them' lifestyle has been sneered upon and feared by many.
Accordingly, ICP led the charge to have the gang classifications dismissed.  The duo and their label, Psychopathic Records, have filed suit in federal court against both the FBI and US Department of Justice, with no result.
That explains the rally.  "Recently, Psychopathic Records' court case in our lawsuit against the F.B.I. and Department of Justice for listing Juggalos as a 'loosely organized hybrid gang' in their 2011 Gang Task Force report was once again dismissed," the group wrote on the Juggalos site.
"Meaning, we are back to square one from a legal standpoint.  We have tried to use the American judicial system to achieve justice and we failed."
"So on Saturday, September 16, 2017, we are taking out fight to the streets. Literally."
Of course, Insane Clown Posse will be playing.  But so will 17 other confirmed artists, including Vanilla Ice.
How many Juggalos will appear?
That remains an uncertain question, though the group's size stretches into the hundreds of thousands.  Actually, this rally was originally labeled the 'Million Juggalo March,' though we're not sure one million people will appear.
But if the Women's March is any indication, people will mobilize when there's enough passion involved.   That rally attracted 500,000, which is enough to clog the streets of Washington, and even send a message.
All of which introduces the possibility that another impassioned group will ape Trump's disputed Inaugural outcome.
More details at juggalomarch.com.