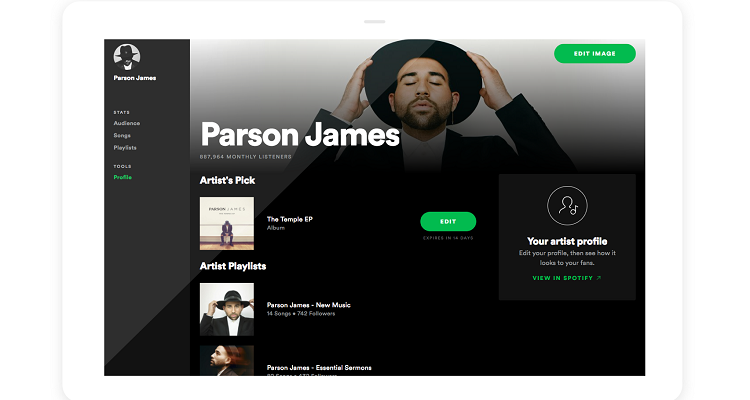 After over a year of feedback, Spotify launches a stronger hub for artists.
In 2015, Spotify launched a data dashboard dubbed Fan Insights. Charlie Hellman, VP of Product, said that the dashboard was intended as "a self-serve way [for] artists and their teams to really understand what was going on with their audiences on Spotify." Fan Insights would let fans see how well their music performed on the service. Now, over a year later, Spotify has finally upgraded their artist data dashboard.
Rebranded as Spotify for Artists, artists can check out listeners' demographic information, including age, gender, and location. They'll also get real-time song info, playlist performance, and data. Artists can see how Spotify users discover and play their songs. The latter feature may help in crafting promotions and partnerships. Plus, they can also see what other artists and groups fans love.
Data on listens will get updated in real-time as the music plays. When a fan adds a track to their playlists, artists will receive notifications, along with song and playlist data.
Through Spotify for Artists, verified artists will get support from the streamer and customize their own profile page. They can upload a photo to the streamer and offer "picks," which may include a featured track. Artists can create and share their own playlists and include tracks from others.
Speaking on the rebranded service, Troy Carter, Global Head of Creator Services, said in a statement,
"What we're seeing is that artists of all sizes need the help. Someone who is one of the top 50 artists in the world, they're still trying to figure out a lot of things about their fans as it relates to specific demographics, how to reach them, how to sell more tickets, how to appeal to audiences that you may not necessarily appeal to on typical radio. But what we're seeing as you go down the stream, artists who more typically self-serve, they also need more tools. We feel like Spotify for Artists is providing them."
Existing users will be automatically upgraded to the new service. New users can get access to the service here.