Baby Boomers spend the most money.  They also watch the most ads on YouTube.  So, why aren't advertisers taking advantage of this?
Each month, research firms publish studies showing how the music and tech industries can better cater to millennials.  Eventbrite published a report on how to make sure that your music festival appeals to this age group.  Barron's also published a study demonstrating how millennials actively "[disrupt] the music business."
Yet, whatever happened to Baby Boomers?  Now, according to a study, advertisers on YouTube are losing out on precious revenue for ignoring this age group.
Titled YouTube's Generational Divide, Strike Social analyzed the impact that the platform has in the US.  According to the social media research firm, the video platform reached 81% of all Americans last year.  The Google-owned company remains popular among millennials who watch it more than any cable news network.
Baby Boomers, however, make up nearly a quarter of YouTube's total monthly visitors. Yet, they also watch the most ads.
Unsurprisingly, millennials watch YouTube the most.
To find YouTube's total visitors by generation, Strike Social analyzed data from comScore and Google's targeting tools.  They found that 39% of millennials (aged 18-34) watch YouTube.  Generation Xers (aged 35-54) and Baby Boomers (aged 55 and over) make up 37% and 24% of the platform's total visitors, respectively.
Yet, unlike millennials, Baby Boomers are less averse to watching ads on YouTube.
Each generation interacts with video ads differently.  Advertisers, however, allocate more money to target millennials and Gen Xers.  Strike Social found that millennials and Gen Xers received more budget than Baby Boomers did (156% and 137% more, respectively).
So, why does this matter?  According to Strike Social, Baby Boomers bring in more revenue for advertisers than their younger counterparts.
Strike Social calculated the cost-per-view (CPV) and view rate (VR) for each generation.
Millennials generated on average a $0.045 CPV and had a 28.3% VR.  Gen Xers and Baby Boomers tied with a slightly higher CPV of $0.046.  However, Baby Boomers have a higher view rate than their younger counterparts, 31.2% to Generation Xers' 28.5%.
You can view the complete CPV and VR breakdown by generation below, along with how each generation accesses the video platform.
The social media research firm explains why these numbers should matter to advertisers.
"Baby Boomers (and older) account for 48% of consumer expenses per year.  In contrast, Gen X is responsible for only 34% of consumer expenses, while millennials account for 19%, according to the U.S. Bureau of Labor Statistics.  And yet YouTube ad spend doesn't reflect these major differences in purchasing power at all."
To summarize, per Strike Social, YouTube advertising CPV only differs by a fraction of a penny.  Yet, on average, older audiences yield a 10% higher view rate than millennials and Gen Xers.
So, what ads do Baby Boomers love watching?
Strike Social listed which industries performed best with older audiences.  In thirteen of the fourteen listed industries, Baby Boomers had a higher-than-average view rate.  YouTube ads promoting household appliances, entertainment, and telecommunication services proved the most popular.  Government and advocacy ads on the platform, along with retail ads, proved the least popular.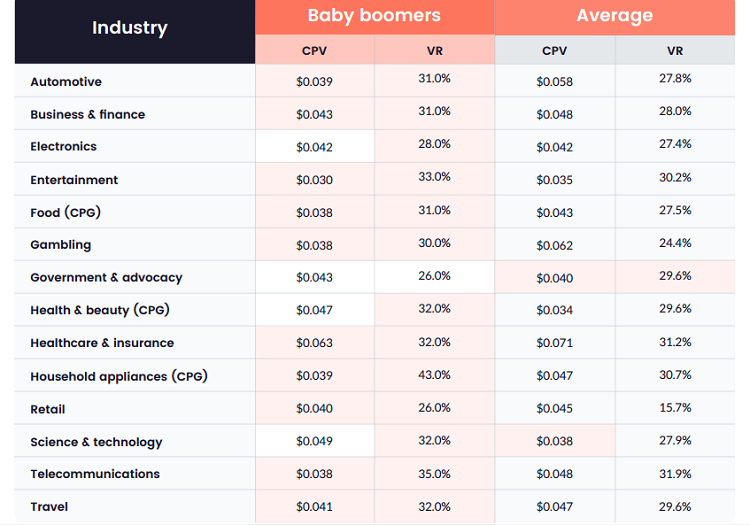 For more information on the study, you can view Strike Social's complete report here.
---
Header and featured image by Quinn Dombrowski (CC by 2.0)