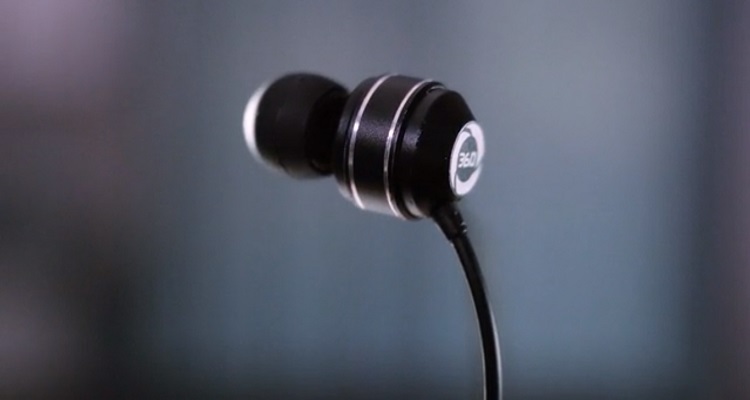 Ready to own your pair of 360 Earbuds?
Instead of requiring an extensive surround sound system to get 5.1 audio sound, founder Calvin Wang had an idea.  He decided to create earbuds that would recreate 3D virtual surround sound.
Wang quickly found that most people were ready to support his idea.
After testing the aptly-named 360 Earbuds, Techaeris.com came to the following conclusion.
"The only problem that these earbuds present is what do we do with all of the other earbuds that we own?"
In addition, with slightly over 2,800 backers, his Kickstarter campaign has surpassed $200,000.  It still has 19 days left to go.
3D 5.1 Virtual Surround Sound straight to your ears.
So, exactly what are the 360 Earbuds?
According to their press release, the 360 team engineered technology that "creates an acoustic chamber that imitates a room."  The Kickstarter page explains that the technology also combines "its own balance of electro-acoustic theory and electro-acoustic materials."
The end result?  5.1 virtual surround sound in your ears with a dynamic frequency range from 8Hz-20KHz.
To replicate the sound in the directional way intended, the earbuds use some of the same concepts as binaural recording.
Calvin Wang and the 360 team explain,
"While the limit of human hearing is 20Hz, anything below can be felt as energy as a deep rumble or vibration.  These low frequencies are usually realized in subwoofer systems, which the 360 team has packed into a portable, earbud format.  This results in infrasonic frequencies developing in the back cavity, allowing users to discern the clearest bass they will ever hear in an earbud, while the viscoelastic material and mechanical structure results in frequencies being refined to produce clear output."
In addition, the earbuds come with an in-line microphone and a control button for calls.
Wang and the 360 team promise that the 360 Earbuds will have multiple applications. For example, you can use it for gaming, sports, and for movies to experience "true sounds."
So, how much will it cost?
The Kickstarter campaign still has several early-bird packages available for potential backers.
With a donation of $55, you'll score one set of 360 Earbuds, a travel carrying case, and 3 size sets of comfort silicone ear tips.  You'll also receive 3 size sets of comfort silence ear hooks.
Oddly enough, a $70 donation will earn you the same as a $55 donation.
With $110, you'll receive two sets of 360 Earbuds, two travel cases, and 6 size sets of comfort silicone ear tips.  In addition, you'll get 6 size sets of comfort silence ear hooks.
Those feeling generous can contribute $275 or more to receive 5 sets of 360 Earbuds and travel cases.  You'll also get 15 size sets of comfort silicone ear tips.
For more information on the project, you can check out their Kickstarter campaign here.
Yet, one question remains: will the final product truly be able to deliver crisp and clear 3D 5.1 virtual surround sound?
---