A sleuthing hacker just cracked into a North Korean radio tower.  Not everyone is laughing.
He's hacked into numerous jihadist websites. He's even defaced the official website of the Russian Ministry of Foreign Affairs with the message, "Stop attacking Americans."
Now, the shadowy hacker known as 'The Jester' has broken into North Korea.  Just last week, North Koreans living along the northern border were treated to a different sort of broadcast.
That is, the song 'The Final Countdown' played on repeat.
Here's what the crackly transmission sounded like.
The station that was hacked broadcasts from Kanggye at 6400kHz station.
That's close to the northern border with China, and about 185 miles from Pyongyang.  The tower is used by the Pyongyang Broadcasting Station (Pyongyang BS).  Actually, the station also broadcasts on 621, 1053, and 3250 frequencies, so we're unclear of the exact broadcast range.
The choice of Pyongyang BS was no accident.  According to Washington-based intelligence firm Strategic Sentinel, the station is frequently used to broadcast alerts before a major weapons test or emergency.  That includes nuclear weapons tests, which are often preceded by 'coded messages'.
"Radio Pyongyang has broadcasted coded messages on 6400kHz," Strategic stated.  "Usually when they do this it signals an upcoming provocation."
Exactly what's next on the world destruction 'provocation' schedule is unclear.  But Strategic Sentinel has noticed a pattern.  Coded alerts typically happen two days before a nuclear test, one day before a intercontinental ballistic missile test, and one day before Japanese 'flyovers'.  Just like clockwork.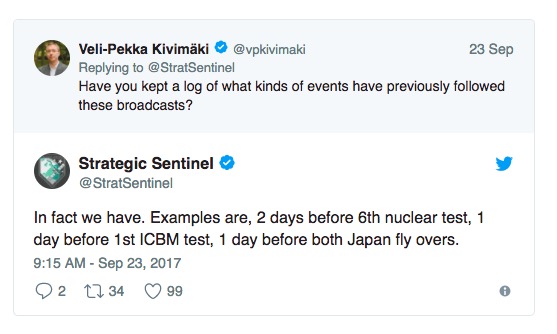 Guess Jester's crack injected some gallows humor into an otherwise serious alert schedule.  And for a white hat hacker, it's a little dark.  And it could embolden other hackers to have some fun.  Accordingly, North Korea is undoubtedly patching its precious radio communication towers.
'The Final Countdown': a brief history of a storied classic.
The song was first released by the Swedish rock band Europe in 1986.  And during its epic 31 year lifespan, the song has gone from smash hit to nostalgia classic.  Over the decades, the song has secured spots in Hollywood films, TV shows, and commercials, usually with a humorously nostalgic slant.
In 'Arrested Development,' the song complements GOB's spectacular magic shows.  More recently, Geico featured Europe performing the song in a staid work cafeteria.  It's also a staple at many sporting events, especially when the clock is running out.
On Spotify, the song has nearly 90 million plays.
Pretty good for a track once panned as a 'one hit wonder' — and even one of the 'worst songs in history'.  Quite to the contrary, this is one of the most epic and enduring rock songs in the world.  And still a huge moneymaker for its authors.
Back to the North Korean situation: we're not clear how long the hack lasted.  Though North Korean autocrats probably probably plugged the exploit within 24 hours.
But not before regular North Koreans got a strange taste of our Western culture.
---