Shares of Live Nation (LYV) have been trading substantially higher, thanks to improved financials.
Live Nation pleasantly surprised Wall Street last week, across a number of areas.  The company beat consensus expectations with a total revenue tally of nearly $1.5 billion, a 19 percent increase.  That was accompanied by a 24 percent spike in adjusted operating income.
Sounds great, though net losses still topped $41 million, with net operating losses hitting $6 million.  Still, that's better than the same quarter last year, when net losses approached $48 million.  Net operating losses were a relatively gaping $21.4 million during the year-ago period.
Live Nation CEO Michael Rapino was quite bullish in the investor call.  "2018 is on track to deliver double-digit operating income and AOI growth along with expected strong gains in revenue, operating cash flow and free cash flow," Rapino noted.
Rapino further said that "Our key leading indicators for our concerts, sponsorship & advertising and ticketing segments are ahead of last year, and we currently expect each of our businesses to deliver record revenue, operating income, and AOI this year."
Across the board, Live Nation was a bigger beast.
It was able to promote 22 percent more shows for 15 percent more fans in total.  Amphitheaters also witnessed a 37 percent increase in revenue, with better on-site fan spending.   The live concert conglomerate also pointed to marked boosts in average ticket prices across all venue types, despite the sluggish seasonal period.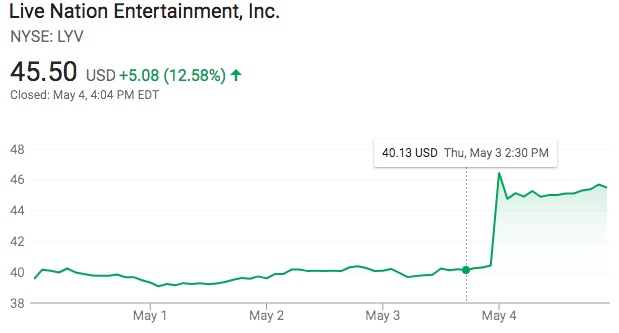 As for Live Nation's ticketing platform, Ticketmaster, the numbers were also solidly improved.
Ticketmaster transacted nearly 60 million tickets, with 21 percent growth in global gross transaction value to $5 billion.  The ticketing division also signed an additional 135 clients, adding new partners across 19 countries.
One question dogging Ticketmaster is whether those clients were obtained fairly.  Just recently, the New York Times pointed to an anticompetitive investigation from the US Department of Justice, which is examining charges of bullying and illegal tying to squeeze out competitive bids.  If found guilty, Live Nation could be forced to make extreme concessions to preserve its previously-approved Ticketmaster acquisition.
Back to the financial report, Live Nation also pointed to 'enhanced VIP offerings,' with average per-fan spending growing by at least $2.50 this summer.   Sounds like a modest per-attendee bump, but enough to make a serious impact on broader company financials.
---