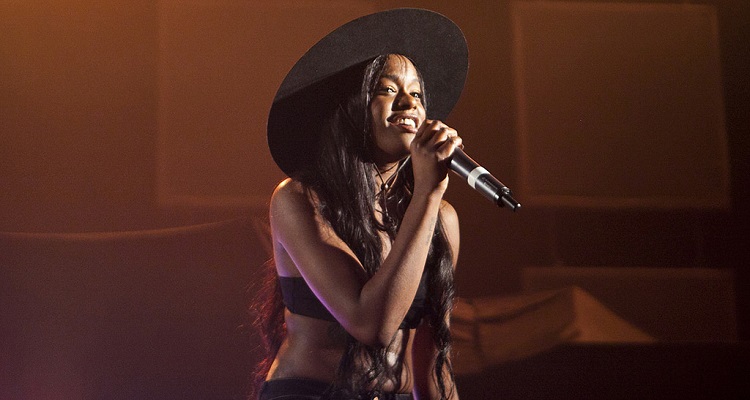 Azealia Banks takes down RuPaul's newest album.
Embattled rapper Azealia Banks has claimed reality show host RuPaul ripped off her song 'This Big Big Beat' with his song, 'Call Me Mother.'  She also alleges that to have reported the show host's latest album, American, to Spotify.  The company swiftly removed it.
---
Would you pay extra for a Spotify data plan?
In a new survey spotted by users, Spotify has asked about whether consumers would purchase a 4G unlimited data plan that included Premium.  It remains unclear whether the proposed plan includes LTE.
---
Camila Cabello breaks Sia's Spotify record.
Cuban-American singer Camila Cabello now holds the Spotify record for most-streamed song by a female artist.  With over 888 million streams, 'Havana' broke the previous record held by Sia with 'Cheap Thrills.'
---
People still love streaming Kanye West, apparently.
Tracks from Kanye West's latest album, Ye, have topped charts on Apple Music and Spotify.  He took the top 7 spots on both platforms.
---
Listen to Apple Music tracks on your favorite browser.
Apple Music has rolled out its web player a la Spotify ahead of WWDC.  Previously, users could only stream 45-second clips.  Now, after signing in to Apple Music, listeners can now stream their favorite music.
---
'Order Ahead' on Apple spotted for music festivals.
Apple has reportedly tested a new feature for music fans – "order ahead with Apple Pay."  At last week's BottleNeck festival in San Francisco, users found that they could open the festival app, select the nearest concession stand, and order drinks without any queue using Apple Pay.
---
JYP launches a Chinese K-Pop boy band.
JYP Entertainment, a major K-Pop label, has teamed up with Tencent Music to launch a six-member Chinese boy band group.  K-Pop star Park Jin-young personally selected each member, whose average age is around 13.  The boy band has already dropped three singles – 'How Old Are You,' 'Can't Stop,' and 'Jump Up.'  The group will debut its next single – 'Hands Up' – on June 12th.
---
Three important letters to the South Korean stock market – BTS.
The success of boy band BTS' latest album has made investors take a closer look at the South Korean stock market.  Stock prices for entertainment companies across the country soared during the five days the group topped the Billboard 200.  KeyEast rose 55.7%, JYP Entertainment 12%, and Studio Dragon 14.5%.  The corporate value of Big Hit Entertainment – BTS' management company – is now estimated to be over 1 trillion won ($935 million).  The company will reportedly launch its IPO next year.
---
Talib Kweli accused of making unwanted sexual advances.
Philadelphia singer and songwriter Res has accused Talib Kweli of refusing to release her music after rebuffing his sexual advances, according to Vibe.  She had previously formed part of Idle Worship alongside Kweli in 2009.  After signing with his label Javotti, the 40-year-old soul singer claimed he demanded 100% control of her image and marketing.
---
Clarence Fountain passes away.
Clarence Fountain, founding member of Blind Boys of Alabama, has passed away.  He was 88.  Alongside five friends, he founded the iconic gospel group.  The Blind Boys would go on to win multiple Grammy Awards, a Grammy Lifetime Achievement Award, and an NEA National Heritage Fellowship.  Fountain is survived by his wife Barbara.
---
Jerry Hopkins passes away.
Longtime music journalist Jerry Hopkins has passed away.  He was 82.  Hopkins had published 36 books including the first biographies for Elvis Presley and Jim Morrison.  For over 20 years, he had also served as a contributing editor for Rolling Stone.
---
Prince fans organize music festival for the late artist.
Prince fans will celebrate the late music legend's 60th birthday with a three-day music festival this week.  Organized by fans from Mankato, Maryland, and New York, the event kicks off on June 7th.  The festival will include a bus tour of Purple Rain filming locations, a screening of the 1984 movie, live music, and an honorary butterfly release.
---
in::music partners with Taiwan Calling to showcase artists from Singapore and Taiwan.
To celebrate its 10th anniversary, Singapore-based in::music has partnered with Taiwan Calling Music Festival to create awareness of Chinese singers and songwriters from Singapore.  Eight artists are presented in the festival – singers and songwriters Ling Kai, Boon Hui Lu, and Ruth Kueo from Singapore as well as Taiwanese musicians Waa Wei, Kowen Ko, and Zooey Wonder along with bands Hello Nico and Coconuts!
---
WMG promotes Emmy Lovell.
Warner Music Group has promoted Emmy Lovell, Warner Music UK's Senior Vice President of Digital, to Executive Vice President of WEA Europe.  Based in London, she'll report to WEA President Tony Harlow.  Lovell replaces Matt Crosswaite, who resigned from the company.
---
Featured image by The 405 (Music & Art) (CC by 2.0)