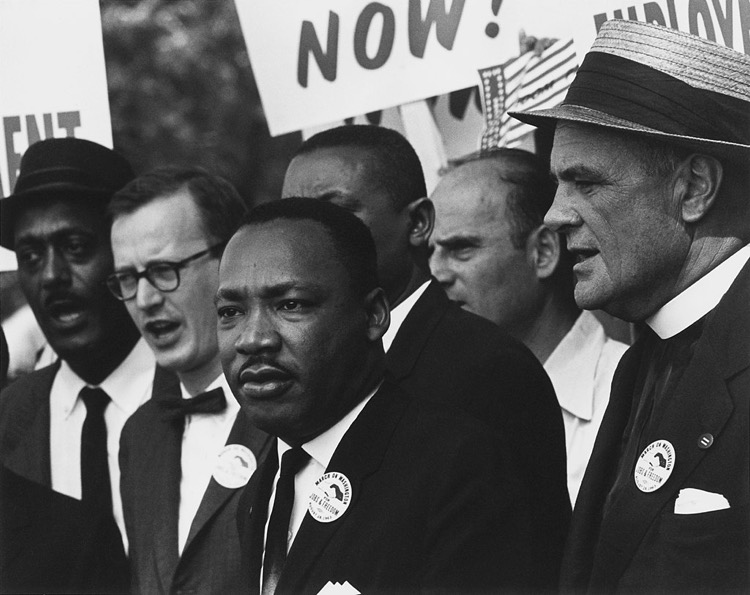 'We Shall Overcome' publisher can't easily overcome its legal fees.
US District Judge Denise Cote has ordered Ludlow Music to pay $352,000 in legal fees as it protected its hit song, 'We Shall Overcome' in court.  The publisher had vigorously claimed the track didn't belong in the public domain.  Ludlow backed off the claim earlier this year.
---
William Preucil, under fire for alleged sexual assault, resigns.
Cleveland Orchestra violinist William Preucil has resigned after serving for more than 20 years.  The move comes days after The Washington Post published a damning report.  In 1998, Preucil allegedly forced violinist Zeneba Bowers – then 26 – to undress following a lesson.  He aggressively kissed her and pushed her down onto a bed.  The Cleveland Orchestra had suspended Preucil on Friday.  Two days later, he presented his resignation.
---
Vampire Weekend jumps ship from XL Recordings to Sony.
Vampire Weekend, an indie pop band, has signed with Sony.  The company confirmed the news in its Q1 / calendar Q2 2018 financial report, listing the band's next project for the quarter ending September 30th.
---
Will Apple reach $1 trillion first?
Following better-than-expected Q3 2018 financial results, Apple ended yesterday's trading day with a market value of $935.3 billion.  In after-hours trading, investors sent the company's stock up 4% ($7.31).  Apple had generated $53.3 billion in revenue for the quarter ended June 30th.  Analysts had expected $52.37 billion.  Net income reached $11.52 billion, meaning diluted earnings per share totaled $2.34.  Analysts expected $2.18.
---
Spotify unveils its new winning strategy – Archie comics?
Spotify has teamed with Nerdist to stream Archie motion comics.  Titled Spotlight Archie – The New Riverdale, the six-episode video series will feature music and voice acting.
---
Big Hit and CJ team up for joint K-Pop venture.
CJ E&M, a South Korean entertainment conglomerate, will launch a joint K-Pop music company venture with Big Hit Entertainment, BTS' agency.  CJ will provide 51% of the ₩7 billion ($6.25 million) starting capital.  Tentatively dubbed Belief, the joint venture will reportedly discover and train new talent as global idol bands.
---
Looks like eMusic forgot to pay labels while pushing for its $70 million ICO.
Struggling download platform eMusic has reportedly failed to pay independent distributor The Orchard, forcing the latter company to take down all of its content from the platform.  Instead of paying The Orchard what it owes, eMusic has pursued a questionable $70 million ICO.  The download store aims to offer a new blockchain token so users can purchase downloads.  It has yet to present a viable business plan.
---
Spotify exits AdsWizz following Pandora acquisition.
Shortly after Pandora's Q2 2018 earnings call, Spotify has confirmed it has ended its relationship with AdsWizz.  The announcement comes several months after Pandora acquired the programmatic audio platform for $145 million.
In a statement to AdExchange, a Spotify spokesperson explained,
"We did sunset our partnership with AdsWizz.  That being said, we remain dedicated to offering advertisers automated solutions to access our engaged audience and quality inventory, which continues to be available in the programmatic ecosystem through Rubicon Project and AppNexus as well our self-service ad platform, Spotify Ad Studio."
---
Prepare to receive clothing recommendations based on your Spotify listening data.
Julian Eison, CEO of San Francisco custom luxury menswear store Eison Triple Thread, has debuted an app that recommends clothes based on users' Spotify data.  Dubbed FITS, Eison told Racked, a Vox Media fashion and lifestyle blog,
"It's a unique take on the recommendation engine that everybody else is using because you can infer a lot from people's music choices.  We start with Spotify information to understand the emotions behind your style choice, and we'll eventually get the looks that fit you best."
---
Stream your favorite classical music.
Primephonic, a Dutch classical streaming music service, has launched.  The service went live today in the Netherlands, the UK, and the US.  Primephonic features the full works of 500 composers, including Bach.  Primephonic first launched as a classical music download store but failed to gain traction due to the decline of the global download market.
---
Pusha T cancels numerous tour dates.
Bronx rapper Pusha T has canceled 9 upcoming performances of his previously 19-stop Daytona Tour.  He canceled stops in St. Louis, Grand Rapids, Cincinnati, Cleveland, Silver Spring, North Myrtle Beach, Charlotte, San Antonio, and Dallas.  Venues in Milwaukee and Kansas City have also reported cancelations according to HipHopDX.  The tour would've kicked off in Milwaukee on August 2nd and wrapped up in Paris on December 14th.
---
Vibe Tickets hires Hannah Morris.
Hannah Morris, former Head of Sales in the UK and the Republic of Ireland, has joined Vibe Tickets as Commercial Director.  Based in London, she'll lead the secondary ticketing platform's commercial strategy and accelerate its monetization plans.  Following forced administration over cash problems last May, Vice Tickets recently relaunched as a limited company.
---
Istanbul Jazz Festival announces a key promotion.
Istanbul Jazz Festival has named Harun İzer as its new Festival Director.  He replaces Pelin Opcin who jumped ship to Serious, producer of the London Jazz Fest, last January to serve as Director of Programming.  Prior to his promotion, İzer had served as Assistant Director since 2011.
---
Allison Kaye receives a promotion.
SB Projects has promoted Allison Kaye as President.  She previously served as President of Music, overseeing the company's daily music operations, including artist management, Schoolboy Records, and the Sheba Publishing joint venture with Universal Music Group.  Kaye's work now includes TV, film, social good, technology, and lifestyle, among SB Projects' other properties.
---
Family and friends save Two Feet's life reach him in time following suicide tweet.
Zachary 'Bill' Dess – best known as Two Feet – has been hospitalized.  He sent out a now-deleted tweet stating he "didn't feel like living anymore" and saying "goodbye" to his friends and family.  Dess suffers from schizophrenia.  His father wrote on Two Feet's account,
"Bill is recuperating and being held for observation.  He will survive.  Thanks to everyone for their heartfelt concern.  This is a very difficult time for us.  We appreciate the outpouring of love. – His father."
---
The Lede Company poaches Dvora Vener Englefield from 42 West and Cara Hutchinson from Rogers & Cowan.
The Lede Company has named Dvora Vener Englefield, a veteran public relations strategist, as Partner and Head of the company's music division.  Her clients include John Legend, Camila Cabello, and Shawn Mendes.  Englefield spent eight years at 42 West.
Cara Hutchinson has also joined The Lede Company.  She had served at Rogers & Cowan as Vice President and worked with The Rolling Stones, Elton John, and Lionel Richie.  Hutchinson also handled publicity for tours including Katy Perry and Adam Lambert.
---
UMPG's Mark Coltman receives a promotion.
Universal Music Publishing Group (UMPG) has promoted Mark Coltman to Executive Vice President of Information Technology.  Based out of London, he'll report to JW Beekman, Chief Financial Officer of Worldwide, and John Reston, Executive Vice President of Global Administration.  Coltman will drive IT strategy and oversee application development and maintenance across UMPG.
---