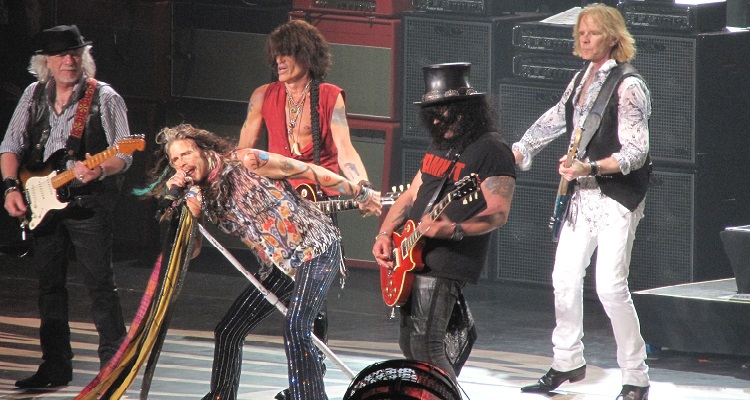 "Please stop using our music, Mr. President.  Love, Aerosmith."
Aerosmith's Steven Tyler has demanded President Donald Trump stop using the group's music.  The President played 'Livin' On The Edge,' at a recent rally in West Virginia.  Tyler sent the President a cease-and-desist letter through his attorney, Dina LaPolt.  The singer fears people will believe Aerosmith supports the President.
---
Downtown Music Publishing tacks on 3,000 songs.
The publishing group just expanded its film+tv catalog through deals involving Note Republic, Court TV, and Indian Paintbrush.  Note comes from reality TV producers Bunim/Murray Productions, whose venerable stable includes 'Keeping Up With The Kardashians,' 'Project Runway,' and 'The Real World'.  The Court TV deal specifically involves 'Forensic Files'.   Downtown has structured an administration deal with Indian Paintbrush.
---
Ariana Grande breaks Spotify's weekly record.
With her latest album, Sweetener, Ariana Grande has broken Spotify's global record for the biggest opening week by a female artist with 109 million streams.  Cardi B previously held the record, having reached 102 million global Spotify streams with Invasion of Privacy.
---
The AMAs and YouTube sign a sponsorship deal.
Per Variety, Google and dick clark productions (dcp) have signed a two-year sponsorship agreement.  The American Music Awards (AMAs) will promote YouTube Music as the go-to music platform for streaming music, videos, and live performances, among other content.  dcp will also work with YouTube on "creative content to support the show."
---
Netflix follows Spotify's example and cuts Apple out of the loop.
Netflix has started testing a new subscription method in 33 countries except the US.  The streaming video platform now directs iOS users to its mobile site to enter payment details.  This allows Netflix to avoid giving a 30% of its subscription revenue to Apple.
Spotify first started the move several weeks ago, writing on its support page,
"It was possible to pay for Spotify Premium using Apple's in-app payment system (iAP).  However, this has been discontinued for new subscribers."
---
Lynyrd Skynyrd sued for Jerry Lee Lewis photo.
Photographer Larry Philpot has sued rock band Lynyrd Skynyrd for allegedly using a 2011 photo of Jerry Lee Lewis without permission.  According to Philpot, the group deliberately stripped the copyright management information from the photo.  He took the photo in 2011, registered it with the US Copyright Office, and uploaded it to Wikimedia with detailed attribution requirements.
---
Prepare to hear more of Bob Lefsetz.
SiriusXM has confirmed Bob Lefsetz will host Lefsetz Live!, a weekly talk show on the Volume channel.  The one-hour program will discuss happenings in the music industry.  Lefsetz will also take calls from listeners.
---
Which cities and countries watch the most BTS videos?
YouTube has revealed which countries and cities watch popular K-pop boy band BTS the most.
The top cities with the most views on Bangtan TV – the group's YouTube channel – include Jakarta, Seoul, Bangkok, Ho Chi Minh City, Vietnam, Hanoi, Quezon City, Kuala Lumpur, Surabaya, Santiago, and Lima.  Vietnam, the US, Mexico, Indonesia, South Korea, Brazil, Philippines, Thailand, and Argentina ranked as the countries that most watch Bangtan TV, which has accumulated 2.5 billion views.
---
Asia Argento pulls out of a Dutch music festival.
Italian actress Asia Argento will no longer curate the Le Guess Who? festival.  Organizers explained in a statement that "due to the volatile nature of the accusations surrounding Ms. Argento, she has chosen to withdraw from her curatorship of this year's edition, while these issues remain open."
---
Taylor Swift breaks her own grossing tour record.
Per Billboard Boxscore, Taylor Swift's Reputation Stadium Tour has become the highest grossing tour by a woman in the US.  Across 27 dates, she brought in $191.1 million, along with $11.1 million in Canada.  Swift previously set the record with her 1989 World Tour, earning $181.5 million in the US.
---
Nicki Minaj and Future postpone North American Tour.
Following sharp criticism over her VMAs performance and her comparisons to Harriet Tubman on social media – including posting a fake Tubman quote – Nicki Minaj has indefinitely postponed her North American tour with Future.  Live Nation stated she has "decided to reevaluate element of production on the NickiHendrxx Tour."  The embattled rapper will continue the tour in Europe, which kicks off on February 21st, 2019 in Munich, Germany.  Live Nation has offered refunds for the North American tour.
---
DHP Family hires a new Head of Brand Partnerships.
British concert promoter DHP Family has appointed music marketer Richie Deeney to the newly created role of Head of Brand Partnerships.  He'll build relationships with current and future partners as well as develop business prospects.  Deeney will work alongside Managing Director George Akins and Director of Live Anton Lockwood.
---
Spotify poaches Mary Catherine Kinney from SMN.
Former Sony Music Nashville (SMN) Associate Director Mary Catherine Kinney has joined Spotify's Nashville team.  She will serve as Manager of Artist and Label Marketing.  Kinney has become the primary contact for Nashville artists, labels, and managers at the company.
---
Stingray hires a Chief Revenue Officer.
Stingray, a music and video services provider, has hired David Purdy as Chief Revenue Officer.  In the newly created role, he'll oversee all aspects of the company's revenue expansion, including advertising and sales efforts.  Purdy previously served as Vice Media's Chief International Growth Officer.
---
Featured image by bobnjeff (CC by 2.0)