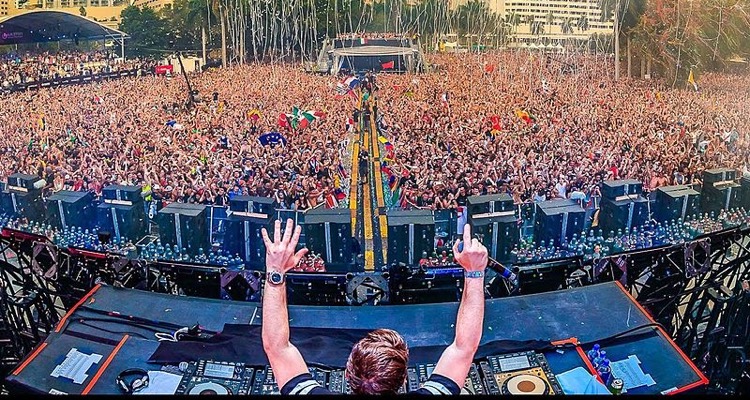 The City of Miami Commission has voted to deny a new five-year agreement for the Ultra Festival to be held at Bayfront Park each year.
Ultra Festival has been a part of Miami for more than 18 years.  And while the vote was unanimous, Miami Commissioners went back and forth at each other during the contentious meeting.
Commissioner Joe Carollo led the opposition to the festival, stating that Ultra was simply too loud and chaotic to take place in close proximity to the growing residential neighborhood around Bayfront Park. Those who were in favor of continuing the contract pointed out that the festival has been in place for 18 years, to which Carollo replied:
"That was a different Miami. The kind of music that Ultra plays is not the same as other venues where the music changes… It's thump, thump, thump."
Beyond the flood of noise is the disruption caused by the event.  That includes chaotic crowds and related incidents, not to mention rampant issues involving drugs.  Over the years, Miami residents and officials have grown wary of babysitting this event.
The odd thing about this development is that Carollo actually drafted the new five-year agreement with the festival and the Downton Neighbors Alliance.
Once the committee was called to vote on the plan, Carollo stated that he was opposed to it.
The committee voted to deny the agreement proposed by Carollo, stating that it did a poor job of addressing the concerns of DNA and Bayfront Park Management Trust.
The Ultra Festival kicked off in 1999 at Miami Beach before moving to Bayfront Park in 2001.  In 2005, the show was moved north to Bicentennial Park until 2011, where it was moved back to Bayfront Park.
The Festival addressed the committee's decision in a tweet, saying they were disappointed with the decision but that the festival would move forward looking for a solution that works for everyone.
— Ultra Music Festival (@ultra) September 27, 2018
City chairman Keon Hardemon suggested a one-year agreement be granted to Ultra to give the festival more time to prepare for its relocation, but Carollo was against that proposal.