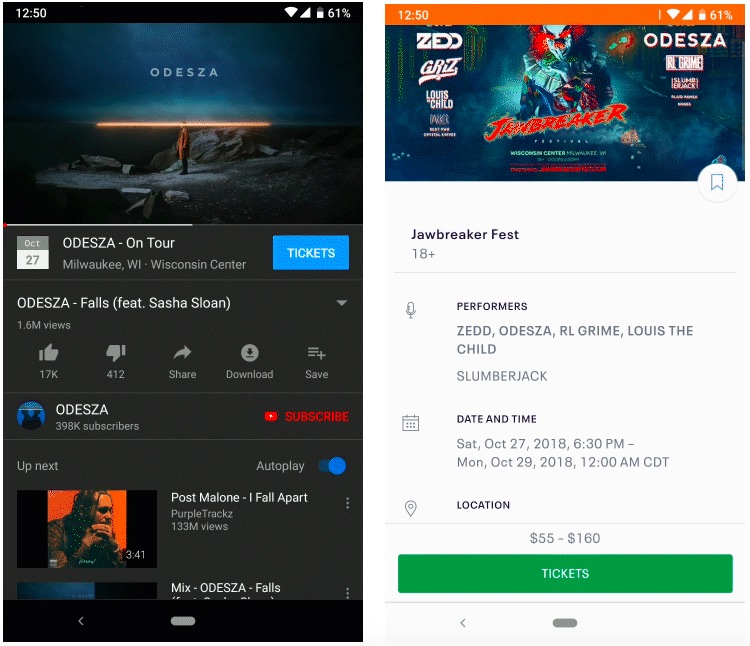 Eventbrite has announced a new partnership with YouTube to offer live tickets to musical acts — right alongside music videos on the platform.
YouTube already has an On Tour section that appears below videos.  This section offers the user the ability to buy tickets to live events handled by Live Nation and Ticketmaster.  Now, Eventbrite and Ticketfly live events will be included in this section.
Eventbrite says this is a meaningful new way for artists to connect with their fans.
"We believe that it's critically important to the future of the music industry for artists to connect with their fans (and reach new ones) online, as well as ensuring there are clubs and venues of all sizes across the country for them to play in," the company emailed.  "We're proud to form partnerships that play a part in bringing artists, fans, and promoters together online, and to support connections built offline through live shows."
With YouTube's partnership between Ticketmaster and Eventbrite, the On Tour feature covers an estimated 70% (or more) of the ticketing market in the U.S.
Here's the integration in action.
YouTube says it is committed to adding more venues and partners to expand the On Tour feature.
Currently, it is only available in the United States.  YouTube says live events continue to be a significant source of revenue for artists.  The company "wants to help artists keep fans updated on their upcoming shows and sell more tickets to live performances."
According to a Nielsen survey, 44% of teens surveyed said they discover new live music events through YouTube content and promotions.
Eventbrite's partnership with YouTube will undoubtedly help its stock prices after the company debuted on the NYSE last month. The stock peaked at $31 shortly after the announcement of the YouTube partnership but has sunk back down below $30 at the time of writing.