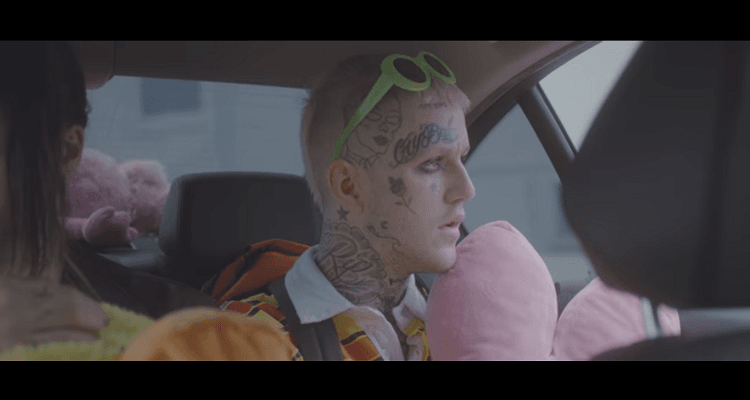 The album, titled Come Over When You're Sober, Pt. 2, was cobbled together from the laptop Lil Peep left behind.
It's been less than a year since Lil Peep (Gustav Elijah Åhr) died at age 21 of a nasty drug overdose.  The emo rapper, who quickly shot to fame, overdosed on a concoction of drugs that included Xanax, alcohol, and fentanyl, among numerous other toxins.
It's all depressing stuff, though Peep was fairly prolific musically.  And there's plenty that fans haven't heard: according to a detailed New York Times report, a new album is in the works and nearing its release date.  On November 9th, the new collection will be released, with plenty of unreleased material.
The album, titled Come Over When You're Sober, Pt. 2, may include collaborations with friend iLoveMakonnen.  Peep producer George Astasio and friend/collaborator Smokeasac largely compiled the album after digging into Lil Peep's hard drive.
Stylistically, the Times noted that this release will be similar to Come Over When You're Sober, Pt. 1.  
ILoveMakonnen enjoyed his greatest success with the hit 'Tuesday,' and has collaborated with Drake.  But he hasn't really returned to his mid-2010s level of fame.
Apparently, the Lil Peep laptop drive contained a mix of finished and incomplete works, with plenty of music fragments drifting about.  So we're not sure how those elements will be cobbled together, or whether the ILoveMakonnen tracks will be included.  Earlier, a 'collaboration' track called 'Falling Down' featuring dead rappers Lil Peep and XXXTentacion was released, not without controversy (for obvious reasons).
Apparently Lil Peep had serious problems with XXXTentacion (also for obvious reasons), and may have never agreed to do the track if both men were alive.
There's also word of a soundtrack in the works, which will accompany a documentary about the late rapper.
Terrence Malick, who was also apparently friends with Åhr, will be executive producing the work.  So far, the details on light on the biopic release, including details like actors and release date.