A freshly-granted Apple patent outlines an interesting over-the-ear headphone design, with 'beamforming' technology employed.
The patent title is "System and method for automatic right-left ear detection for headphones," and it describes what are essentially reversible headphones.  The patent showcases a system for a pair of headphones that automatically determines which ear cup is left or right based on how they are worn.
The system for this determination is fairly complex as described by the patent.  Each ear cup holds five microphones that determine the orientation of the headset based on how it is worn on the head.  Once the relative positions are worked out, so are the l/r channels.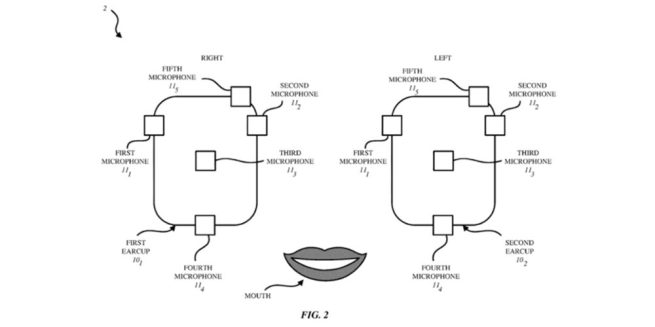 But this goes far beyond simple left/right detection.  It appears that the patent will extend 'beamforming' technology deployed on Apple's HomePod, which deftly isolates a voice input (for Siri) and negates background noise (even HomePod-generated background noise).
In the headphone format, that enables better voice pickup during phones calls.  The headphone will use individual microphones to capture your voice and another set to cancel out background noise so you can be heard.
Right now it's impossible to say if this feature is something Apple is putting into a future device.  Apple frequently patents concepts that never make it into finished products.  In fact, the company has been accused of filing excessive patents to make Android devices more expensive.
Also worth questioning is the necessity of all this tech.  And, the price tag that comes with it.
Bloomberg reported in early March that Apple was working on a new set of high-end headphones to rival competitors like Bose.
Bloomberg cited the success of the company's AirPods as the main reason why it is pushing into the high-end audio accessory market.
That rumor stated that Apple is working on noise-canceling, over-ear headphones to rival its own Beats by Dre brand. The headphones were expected to launch as soon as the end of this year, but apparently, development problems have pushed back their release.
Bloomberg claimed that Apple had faced some challenges in developing the headphones, with multiple re-designs involved. In fact, Apple could scrap the headphone project altogether, according to Bloomberg's sources.
With the recent patent surfacing, it's likely that we won't see the new Apple headphones until next year. Apple's teased AirPower charging system is still missing despite being showcased more than a year ago, so the company may be looking to avoid making another similar gaffe.
Another report from Bloomberg in July said Apple was working on a pair of AirPods that feature the same noise-cancellation technology and are water-resistant. Perhaps Apple's next big WWDC conference next year will have a significant focus on audio accessories.