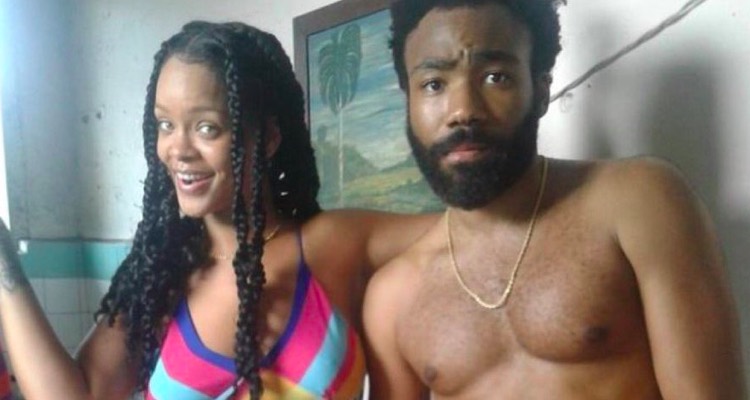 Rumors have been circulating about Donald Glover and Rihanna working on a film together in Cuba called Guava Island.
The first preview of the film was given last weekend at Glover's PHAROS festival in New Zealand. Some fan footage from the festival can be seen below.
https://twitter.com/purelylorde/status/1066293427376087043?ref_src=twsrc%5Etfw
Another Rihanna fan Twitter posted alleged pictures from the production, which describes it as an action/crime movie.
Glover's annual PHAROS festival was chosen as the reveal for the trailer as he believes the festival is "a gathering of the five intuitives of the human experience: tribe, ritual, experience abstraction, architecture, language."
According to fans in attendance, the trailer opens with Donald Glover singing and playing guitar. Several shots of him singing, dancing, performing and being held hostage are included in the trailer.
"We live in a paradise but none of us actually have the time or the means to live here," Glover says. Rihanna plays Glover's girlfriend and partner-in-crime in the movie.
Long-time Glover collaborator Hiro Murai is directing the film. Murai directed Glover's controversial "This Is America" video, as well as a few episodes of the series Atlanta.
This trailer might be the first sneak peek we get of Glover outside of his Childish Gambino personality. He recently announced that his "This Is America" tour would be his last using the name. Glover suffered a foot injury halfway through the tour, and a few dates have been shuffled around to accommodate.
Rescheduled tour dates include two dates in December at The Forum in Los Angeles, California. The two concerts were slated for the end of September and beginning of October, but have been moved to December 16 & 17 for now.
Reporters have reached out to Glover for a comment about the trailer, but those requests for a comment have not been returned.