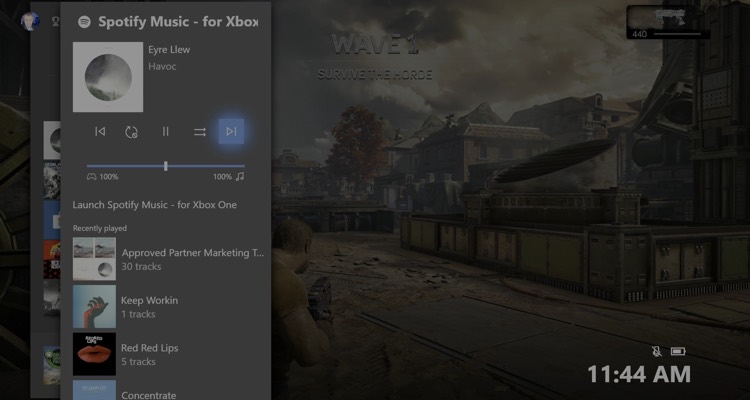 Spotify launched on the Xbox One late last year, but the experience left something to be desired.
Now, Microsoft has announced a new, overhauled Spotify experience with Cortana voice integration.
Spotify launched integration with Cortana to offer voice commands for seamless control while playing games.  The new Xbox One app also features recommendations based on listening habits.
Xbox One users in the United States can ask Cortana to play any playlist on Spotify, or even ask her to pause the music or skip a song.  All of these actions can happen without leaving the game.
The net result: this is now the best way to listen to music on the same device while playing games.
The redesigned app features a Gaming Hub with curated playlists designed just for gaming sessions. These playlists include Hip Hop Controller, RetroWave / Outrun, and Bass Arcade.
Spotify also has several original soundtracks from games available for listening.  Xbox One owners who want to experience the new Spotify experience will need to download it from the Microsoft Store.
Spotify was exclusively available on the PS4 until the company reached an agreement with Microsoft for the Xbox One.
The original incarnation of the app was very basic, but Spotify has consistently worked on improving it with the help of the Xbox Insiders program.
Right now, the new voice controls are exclusive to Xbox One users in the United States.
Microsoft has been playing catch-up this generation as Sony's PS4 has dominated the console space.  The lack of Spotify was initially a strike against the console, but the newly improved experience makes up for the years without a decent app.
Spotify has been focusing on offering native apps for plenty of different platforms. Android's Wear OS finally got an official Spotify app in October of this year.