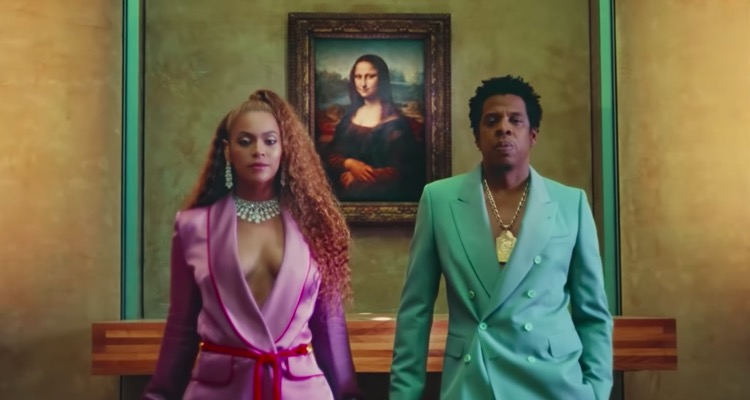 The Louvre in Paris is crediting Beyonce and Jay-Z's video 'APES**T' with creating record attendance numbers in 2018.
The dynamic duo came together as The Carters this year to release the video in June.  So far, the video has garnered more than 147 million views on YouTube.
But the more interesting numbers are happening offline.
The Louvre says it served 10.2 million visitors in 2018, which is a 25% increase from the last record-breaking year in 2012.  Louvre director Jean-Luc Martinez told a French radio station that the video kept the Louvre on people's minds.
"The Beyoncé video, like the opening of the Louvre museum in Abu Dhabi, ensured that the Louvre was talked about across the world, and one of the consequences of that is the spectacular rise in visitor numbers last year," Martinez relayed.
The famous art museum capitalized on the popularity by offering Beyoncé and Jay-Z fans a curated tour.
The tour showcased all of the exhibits featured in the iconic video. Key works shown in the video include the Mona Lisa, The Consecration of the Emperor Napoleon, and the Coronation of Empress Joséphine.
This year's visitors tend to be much younger, too.  An estimated 50% of the 10.2 million visitors were under age 30.
Other factors may also be in play.  The Guardian also credits the rise in Louvre tourism with a return to tourism in France in general. A series of terror attacks in 2015 left France's tourist economy hurting.
Aside from the bump from Beyonce and Jay-Z, the Louvre says its attendance numbers are up thanks to exhibitions too.  In 2018, the museum offered a retrospective of the 19th-century artist, Eugène Delacroix. For 2019, the museum will commemorate the 500th anniversary of Leonardo da Vinci's death.
Meanwhile, the anti-government demonstrations that took place in France over November and December have not affected attendance numbers.
Here's The Carter's Louvre masterpiece.