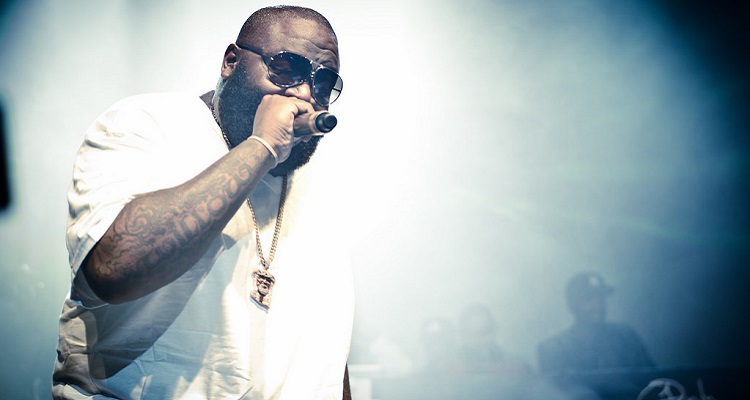 Rick Ross first sued LMFAO over 'Hustlin.'  Now, a federal judge has dropped him from the case.
Five years ago, Rick Ross sued LMFAO over their song, 'Party Rock Anthem.'
According to Ross, the uncle-nephew duo infringed on his song, 'Hustlin'.'  Ross claimed they used the phrase he copyrighted: "Everyday I'm Hustlin'."
LMFAO slightly modified things into "Everyday I'm Shuffling."
At court, US District Court Judge Kathleen M. Williams had a simple question for the rapper.
"Was the musical composition 'Hustlin' validly registered with the Copyright Office, and, if so, do Plaintiffs have an ownership interest in the exclusive right to prepare derivative works for the musical composition Hustlin'?"
After answering "No," she gave her final judgment, tossing the lawsuit.  Copyright law doesn't protect an altered three-word phrase.
"Because Plaintiffs do not hold a valid copyright registration and because Plaintiffs have not established either legal or beneficial ownership of the exclusive right to prepare derivative works for Hustlin', Plaintiffs' motion for summary judgment is DENIED and this case is DISMISSED."
Ross didn't stop there.  Appealing to the Eleventh Circuit, he asked an appeals panel to evaluate whether Williams had misinterpreted invalid copyright registrations.
The Eleventh Circuit revived the lawsuit last year, finding Ross' copyrights were valid.
The panel found registration mistakes don't invalidate copyrights.
"Rappers are skilled in poetry and rhythm — not necessarily in proper copyright registration procedures."
Yet, Judge Williams found only producers Jermaine Jackson and Andrew Harr's copyright claims can head to a jury trial.  Not Ross'.  Both Jackson and Harr's company — Trac-N-Field Entertainment — produced the song.  Jackson and Harr controlled all aspects of 'Hustlin,' and thus have an ownership stake in the song.
"Because genuine issues of material fact remain regarding Harr and Jackson's legal ownership of Hustlin', they are entitled to a jury trial on this issue and on their infringement claims."
Williams declared Ross didn't own the rights to the song.  Twelve years ago, he assigned his interest to 3 Blunts Lit at Once LLC.  3 Blunt had dissolved in 2004.
Shutting down his lawsuit's claims, she added,
"Plaintiffs have presented no evidence of beneficial ownership, so summary judgment will be granted for defendants on this issue."
Williams has also limited recovery of damages to respective shares of legal ownership interests.
The case will still proceed to a jury trial.
You can view the order below.
---
Featured image by The Come Up Show (CC by 2.0).