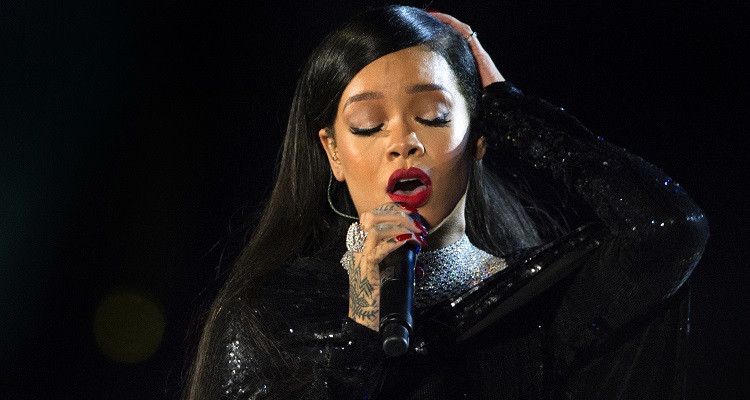 Rihanna won't tolerate anyone exploiting her name and brand — especially within her own family.
Rihanna has filed a lawsuit against her own father in a federal courtroom.
In the lawsuit, filed with the US District Court of Central California, Western Division, the singer claims that her father has fraudulently made "millions of dollars" off her fame.  Ronald Fenty apparently exploited Rihanna's name and brand with a company he set up in 2017 with business partner Moses Perkins.
Rihanna – real name Robyn Rihanna Fenty – alleges Fenty Entertainment has claimed a false association with the singer.  The company has also solicited millions from "unsuspecting third parties in exchange for…false promises."  These promises include the company acting on her behalf, stating she would perform at various locations throughout the world.
Sadly, this sort of scenario isn't unheard of, with parents and family members often exploiting their ties to a famous family member.
Rihanna claims her father and Fenty Entertainment have lied and have no legal right to use her name.
They also can't use her intellectual property or publicity rights.
"Although Mr. Fenty is Rihanna's father, he does not have, and never has had, authority to act on Rihanna's behalf, nor has he ever been authorized to use her name, intellectual property or publicity rights.

"Simply put, Mr. Fenty, Mr. Perkins, and the Company are not presently, nor have they ever been, authorized to exploit Rihanna's name, her intellectual property or the goodwill associated with her well-known "Fenty" brand, or to solicit any business on her behalf."
Calling their actions "egregious," the singer had asked the company multiple times to stop making these representations.  This includes the sale of multiple products, including Fenty x Puma.
Citing one example, Fenty Entertainment had offered a concert promoter 15 Rihanna performances in Latin America for $15 million.  In addition, the company, her father, and Perkins offered two fifteen minute sets at Calibash at Staples Center and T-Mobile Arena for $400,000.  They "accepted" the deal on her behalf and sought payment from SBS Entertainment.
Fenty, Perkins, and the company falsely told the promoter the singer "loved the idea" and "approved" further discussions.  They had also allegedly spoken to someone at Roc Nation, her management company, implying Rihanna had approved the deal.
The lawsuit includes claims of false designation of origin, false advertising, violations of California's right of publicity statute, and invasion of piracy.
Rihanna has asked the court for treble damages, including lost profits, costs for 'corrective advertising,' injunctive relief, and legal fees.
You can view the lawsuit below.
---
Featured image by DoD News (Public Domain).