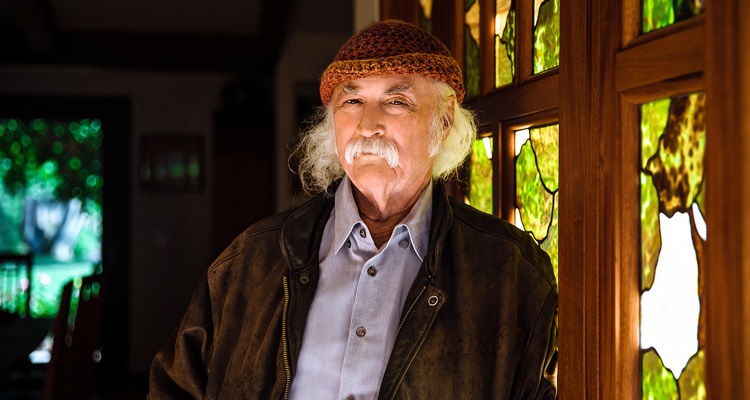 On February 20th, it was announced that SESAC Performing Rights had signed folk-rock legend David Crosby.
John Josephson, who is the Chairman and CEO of SESAC Holdings, Inc. — which is the parent of SESAC Performing Rights  — warmly welcomed Crosby. In a statement, he said that Crosby's music — which has combined great lyrics and storytelling — continues to influence the industry.
David Crosby's storied career dates back to the 1960s, starting with the legendary band the Byrds.  It was then that he wrote hit songs such as "Why" and "What's Happening." His career then only rose when he left the Byrds to form Crosby, Stills & Nash, at which time he wrote classic songs such as "Almost Cut My Hair," "Guinnevere" and "Wooden Ships."
Crosby has also had a prolific career as a solo artist. Last October, BMG released his latest album, which was called Sky Trails. The album was the follow up to the 2016 release of Lighthouse, which won praise from both NPR and Rolling Stone.
Crosby is not only an inductee in the Songwriters Hall of Fame but the Rock and Roll Hall of Fame has inducted him on two separate occasions.  He also won a Grammy in 1969 and has collaborated with artists such as Joni Mitchell, James Taylor, Phil Collins, Elton John and Carole King.
At the recent 2019 Sundance Festival, Crosby's documentary David Crosby: Remember My Name not only premiered but also received critical acclaim.  Both Variety and the Hollywood Reporter praised the film, and Sony Pictures Classics picked up the film for distribution throughout North America.
And here's a fun fact: SESAC Performing Rights is actually the second oldest performance rights organization (PRO) in the United States.  Alongside PROs like ASCAP and BMI, SESAC tracks and collects royalties from public music performances in restaurants, malls and radio stations across America.
Its parent company, SESAC Holdings, Inc., has offices in New York, Los Angeles, Nashville, London, Munich, and other spots around the globe.