Apple Music has pushed an update that redesigns the Browse tab in the app for both iPhone and iPad.
The new look appears to be server-side and is rolling out slowly, with some people receiving the update on Friday.
The Browse tab used to be laid out with a carousel of featured content and a list of navigation options. This led to several taps before the user would see any music options.  The new design focuses on positioning playlists and music more upfront, rather than burying music within a bunch of categories.
The same horizontal carousel of featured content is present in the redesign, but now the Daily Top 100 playlists appear below. A new Weekend Warrior section of playlists is also available, which presumably changes as the days of the week progress.
Apple is also highlighting the Visionary Women playlists on the re-designed screen. That's part of the International Women's Day celebrations and part of a month-long event.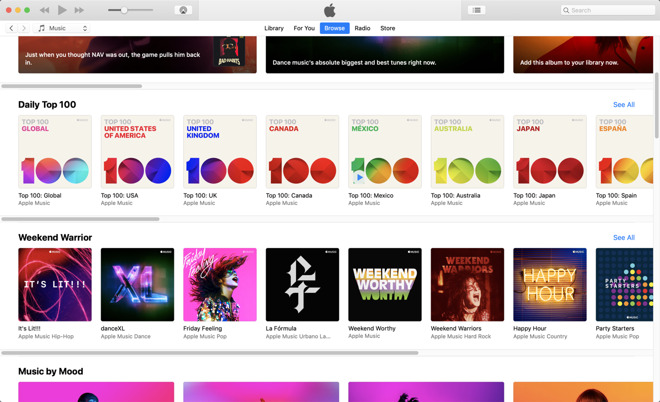 Scrolling down, the user will see a larger set of tiles for Just Updated playlists, where playlists with a human-curated touch live. A new section to highlight hot songs and newly released albums sits below.
Finally, navigation links for genres, moods, top charts, and music videos can be found in a More to Explore section.
This section, found four sections down the new Apple Music experience, is what used to be the default Apple Music layout.  The update brings Apple Music into a more content-focused era, where playlists and Hot 100 content is available in just a single tap.
One notable missing link is Apple Music's TV & Movies.  The removal of this link means Apple's exclusive music documentaries are much harder to find.  You can't stumble upon them and must search for them by name.  They'll likely receive more promotional focus from Apple's rumored streaming service when it launches.
There are no changes to the content available on Apple Music, but the new update puts that content front and center. Apple Music is now more intuitive to use, and the changes should be available to most users very soon.