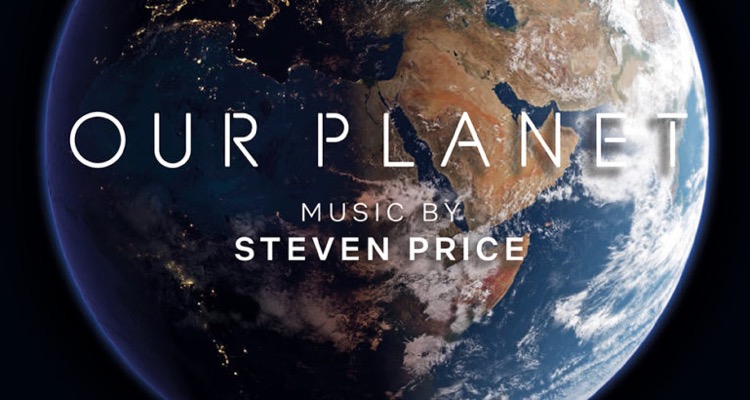 Universal Music Group's Decca Records is hoping to make an eco-friendly statement with its Our Planet CD and vinyl releases. But does this just highlight the problem?
If you're releasing the soundtrack to a documentary about environmental destruction, it's best not to further destroy the planet in the process.
Or, at least make an attempt to minimize the impact.
With that in mind, UMG's Decca Records is using recycled algae for its CD and vinyl packaging.  "The album packaging is an ecological material made from algae and FSC fibres, Shiro Alga Carta, developed as a way to reprocess the damaging algal blooms of the Venice lagoon into a sustainable paper product," the label relayed.
"Due to its success, the concept has been extended to other fragile marine areas across the world."
Of course, the actual CDs and vinyl discs won't be re-engineered from algal bloom overgrowth, which raises the question of whether a physical release is ultimately helping the environment.  Vinyl record manufacturing in particular is incredibly destructive to the environment, and CDs aren't exactly nourishing the fragile eco-systems portrayed in Our Planet.
But hey, it's a start.
The Neflix 8-part series was developed with Silverback Films and Planet Earth creator David Attenborough.
The World Wildlife Fund (WWF) and Globe were also deeply involved in this series.
Attenborough himself will be narrating the series, and focusing heavily on environmental destruction and climate change. On the flip side, the series offers a look at nature's incredible resilience, a nugget of hope for those who feel issues like global warming are irreversible or otherwise hopeless.
Our Planet was in production for 4 years, with 3,500 total filming days across 50 different countries.  Here's a quick peak at the series.
The teaser offers a nice preview of the cinematic orchestral soundtrack.
The sweeping sounds were recorded by the Philharmonia Orchestra at Abbey Road Studios in London.  Academy Award-winning composer Steven Price penned the score, a considerable job considering the 8-installment series.
"For every moment across the eight films, from scenes of epic scale to those of incredible intimacy, my focus has always been on the emotional connection that the music could provide in support of the remarkable images. My hope is that the music for these films can take the audience on a real journey, helping to inspire the changes we need to care for our home," Price relayed.
Also featured is Ellie Goulding, who performs on the original track, 'In This Together'.  Goulding pointed to a sense of urgency relayed by the production.  "I felt like I was joining the ultimate team of Earth defenders," Goulding said.
"It's a series that simultaneously wakes you up to the emergency but also instills wonderment. Watch it, and you will never take the earth for granted again."
The soundtrack will be released on April 5th.  Here's the full Our Planet track listing.
Disc 1:
'This Is Our Planet'
'The Numbers Build'
'They Work As A Team'
'The Importance Of This River'
'An Ingenious Technique'
'The Ocean Returns The Favour'
'Baby Blue'
'Regeneration'
'An Unknown Signal'
'Too Big To Argue With'
'Frozen Words'
'Mayflies'
'Great Rolling Waves'
'Crucial To Their Survival'
'Every Year There Are Others'
'Where Life Gathers'
'The Perfect Gift'
'The Ocean Belongs To Us All'
Disc 2:
'Deserts & Grasslands'
'The Mighty Mekong'
'Corals'
'Leaf Cutters'
'Chernobyl'
'Into The Woodlands'
'Signature Moves'
'Every Other Breath You Take'
'Arctic Refugees'
'A Sudden Turn'
'A Nest Of Bubbles'
'He Wins Her Approval'
'Majestic Submarine Forests'
'They Came Back'
'We Must Preserve What's Left'
'Ice Caves'
'Mythical Creatures Follow'
'They Have Come To A Desert'
'This Glacial Ice'
'A Greater Resilience'
'The Next Twenty Years'
'In This Together' (Ellie Goulding & Steven Price)