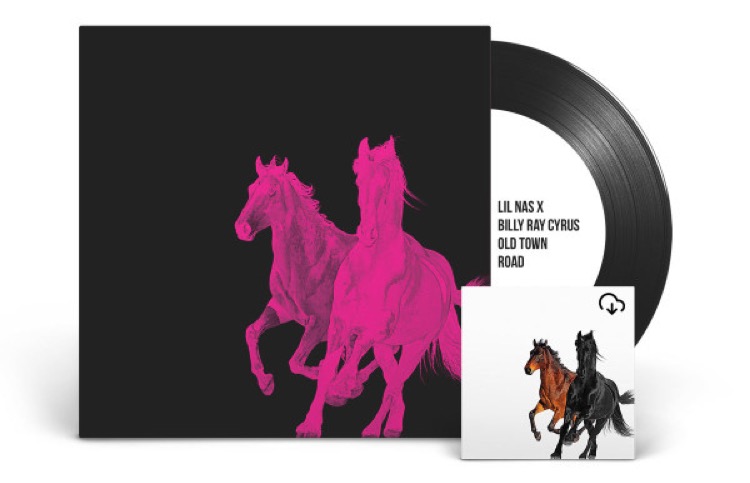 From TikTok to vinyl, the story on 'Old Town Road' just keeps getting better.
Lil Nas X's 'Old Town Road' has taken the charts by storm, and is now being released for a limited time on 7" vinyl.
Since its initial independent release on December 3rd, 2018, the Country and Hip-Hop fusion has been no stranger to the Billboard Top 100.  The track even assumed a prominent place on Billboard's Country charts for a time, before eventually being taken down for not fitting into the genre well enough.
Needless to say, Lil Nas X was a bit confused after listening to other songs that remain on the Country charts to this day.  And Billboard was blasted for the takedown, which emitted a whiff of racism.
But the snub ended up being a godsend to Lil Nas X.  In fact, 'Old Town Road' only served to become more country when all-star country musician, Billy Ray Cyrus, connected with Lil Nas X to record his own verse and version of the song.  In the age of the internet and meme culture, the collaboration only added fuel to the growing fire around the track.
Now, both versions are on the limited 7″ release, which is cashing in on a track gone wild.
Incidentally, the 7″ also comes with a free download code.
When it was first released, 'Old Town Road' began to gain popularity on the social media app TikTok.
The song was quickly embraced by the community, many of whom just had to incorporate the track into their clips.  From there, the track spread like wildfire, climbing the charts, gaining popularity on the internet as a whole, and potentially shifting the course of country (and hip hop) in the process.
Exactly how 'limited' of an edition this is remains to be seen.  After all, money talks, though it's hard to tell how many TikTokers want to spin a 7″ on their non-existent turntables.