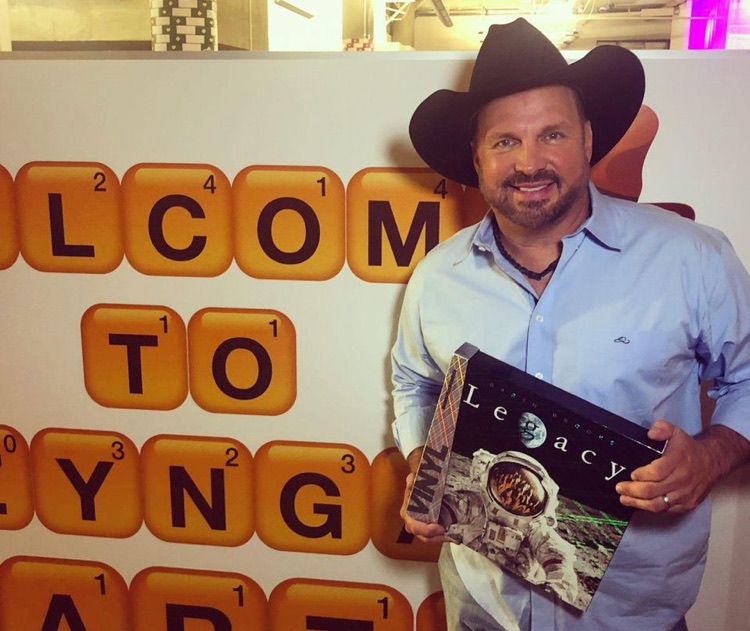 Looks like Garth Brooks just set a brand-new vinyl sales record — and lifted a giant middle finger at streaming.
Last month, a surge in Record Store Day buying in the U.S. spurred a near-record in one-week vinyl LP sales.  According to Nielsen stats, a whopping 827,000 LPs were purchased across America during the recent period, the third-highest weekly performance for vinyl since the format staged a comeback in the mid-2000s.
Now, a single artist has crushed that record, by a country mile.
According to stats emerging this weekend, Garth Brooks has already sold one million LPs through pre-orders of his $130-a-piece 'Legacy Collection' vinyl box set.  Each box contains 7 LPs, meaning that total box set pre-orders have crossed 142,000 units.
At $130 each, that's roughly $18.5 million in newfound vinyl revenues.
The record-smashing event speaks volumes on Brooks' relationship with streaming.
While other heavyweights like Metallica and the Red Hot Chili Peppers ultimately licensed their music to platforms like Spotify, Garth Brooks has remained a holdout.  Ironically — or perhaps strategically — Brooks has now set a sales record on a format that pays vastly better than streaming, with fans willing to pay enormous sums for the once-extinct, tactile experience.
The 'Collection' is apparently sold out, thanks to Brooks' direct-to-fan salesmanship on TalkShopLive and  garthbrooks.com/vinyl.
Fans who purchased one of the first 123,199 units will be able to etch a personal serial number on the side.  That includes a birthdate, anniversary date, or other lucky number.  "Music is so personal, now, being able to make your package with your most important date on it, makes it even more personal," Brooks said. "I have secured my packages with my daughters' birthdays and my anniversary."
Back in March, sales quickly crossed 420,000 total LPs, enough to motivate second and third TalkShopLive rounds.
The spike itself probably won't register until early November, when the box sets ship.  Exactly how Nielsen Music will treat the pre-sold 7-LP set is unclear, especially since the sets won't be traveling through traditional retail.  And some of the box sets are being shipped to other countries.
Nielsen is known for fuzzy math and case-by-case disqualifications, especially for 'out of the box' releases like these.  Though objectively speaking, this will represent 1 million LPs sold and shipped in a week — at least.
Add those to sales of other vinyl LPs during the drop week, and the music industry could witness another record-smashing week for modern-day vinyl.