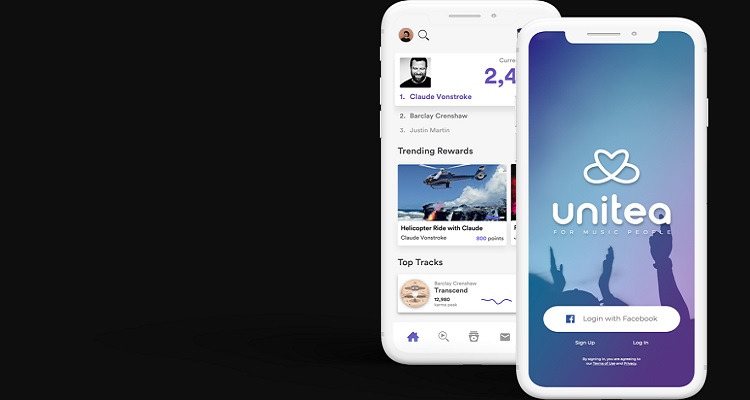 Unitea has confirmed a new fundraising round.
The social music community app has raised $2.3 million in the startup's latest investment round.
Unitea raised $200,000 in its first investment round five years ago.  Then, the startup received $1.2 million in 2015.  Miami Innovation Fund, Chris Murray, Armando Perez (best known as Pitbull), and Rick Rourk had joined in.  Last year, Rokk3r Fuel ExO led a $2.3 million round for the social community music startup.
Based in Orlando, Florida, Michael O'Donnell and Ketan Rahangdale founded the little-known social music community platform.  According to the company, Unitea "brings artists closer to their fans by recognizing and rewarding the most engaged fans who stream and share music with Karma."
On the App Store, Unitea is described as a place to "bridge [the] divide" which fosters organic connections and rewards fans.  They have the option to earn Karma – a social currency – from listening to music.  Fans exchange the social currency for "real-life rewards" with artists, festivals, and other fans.  These include tickets, merchandise, and experiences such as going on a hot air balloon ride with Claude VonStroke – real name Barclay Crenshaw – at a music festival.
VonStroke, an electronic DJ and owner of indie EDM label Dirtybird Records, led the latest $2.3 million investment round.
Dubbing Unitea one of the only companies "that cares about sharing data back with the artist," the EDM DJ praised the platform's social currency.
"The way they're monetizing music through their proprietary new Karma social currency data-royalty is exactly what music needs.  Love the way they're redefining how the most loyal fans interact with music and their favorite artists through experiences as well."
The platform has previously partnered with major companies, including BMG Bertelsmann, United Talent Agency, Urban Decay, and Univision.  The startup has two office locations – one in Los Angeles and the other in Miami.
Unitea's Board includes Kevin Conroy (Univision's former Chief Data Officer Univision), Sharen Turney, (Victoria's Secret's former CEO), Jeffrey Ransdell (CEO of Rokk3r Fuel ExO), and artists such as Pitbull, Michael Bearden, (Lady Gaga, Madonna, and Michael Jackson's Music Director), and Claude VonStroke.  Its core team is comprised of music and tech industry veterans from companies including Tinder, Snapchat, Universal, OWSLA, and Monstercat.
---
Featured image by Unitea.