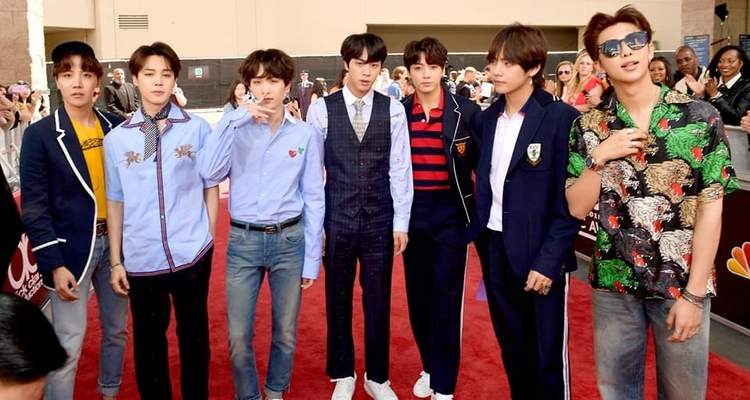 BTS released a new Japanese-language 3-track single on July 3rd. It has already shipped over one million physical units in just over a month.
Despite the near-evisceration of physical formats in countries like the U.S., Japan remains a stronghold of physical purchasing.  That's playing well for groups like BTS, who are cashing in on the preference.
Just this morning, "Lights/Boy With Luv" was officially awarded a 'Million' certification by the Recording Industry Association of Japan (RIAJ).  BTS is the first foreign male artist/group to be awarded the RIAJ million certification.
It's also one of only five releases to achieve a million sales in 2019 so far.
BTS commented on the news, with typical South Korean humility.
"We are thankful that the album we worked hard on received so much love. We will continue to try our best to show you better sides of us."
"Lights/Boy With Luv" is BTS' tenth single in Japan. The single topped the iTunes charts in 43 countries around the world, and the official music video has over 39 million views at the time of writing.
The band is currently on its 'Love Yourself' worldwide tour with 62 shows across the world.  In short, BTS is a non-stop cash machine across recordings, touring, branding, and other areas like publishing and even film/TV.
BTS is alternatively referred to as 'Bangtan Sonyeondan,' 'Beyond the Scene,' 'Bangtan Boys,' or all three. Members include RM (formerly Rap Monster), Jin, SUGA, J-Hope, Jimin, V, and Jung Kook.
Amazingly, that septet has stayed cohesive despite a grueling work schedule, with Big Hit Entertainment overseeing the boy band with military precision.  That includes strict orders on what to wear, when to appear, what to sing, and which plastic surgeries to undergo.  Of course, that formula has worked in Western countries as well, most notably with groups like One Direction and 'N Sync in an earlier era.
On the solo offshoot front, BTS' V has just released his new song "Winter Bear" which features RM.  "Winter Bear" is the second song from V this year, following his January release, "Scenery." It's also the only song V's released entirely in English.
RM has also had his solo forays, including with high-profile rappers like Wale.  That stoked some fears that RM would ditch BTS for a lucrative solo career, though it appears the bigger money lies within the group.
The Love Yourself tour has show dates in the US, Canada, UK, France, Germany, Netherlands, Japan, Taiwan, Singapore, and Hong Kong, Thailand, and Saudi Arabia coming up.