The most popular concert tickets, tour stops, and artists around the country, through Wednesday, August 28th.
Welcome to our weekly report on the world of live music, based on exclusive data from SeatGeek, a ticketing platform that enables fans to buy and sell tickets for sports, concert, and theater events. Read on for insights into the most popular artists and festivals from the prior and upcoming weeks.
Most Popular Artists and Festivals
Past Week, Based on SeatGeek Web Traffic
1. Jonas Brothers (Rank last week: 1)
As if the Jonas Brothers "Happiness Begins" tour wasn't popular enough already, the band's recent appearance at the 2019 VMAs certainly helped take it over the edge. The brothers are halfway through their massive concert schedule, with an East Coast leg beginning this week.
2. Florida Georgia Line (Rank last week: 2)
Florida Georgia Line may just be the hottest thing in country right now, and they've got the credentials to prove it: the pair was just nominated for the CMA's Vocal Duo of the Year award, set to air in November. Of course, you can catch them live a lot sooner than that on their "Can't Say I Ain't Country" tour.
3. Shawn Mendes (Rank last week: 4)
Shawn Mendes' epic tour is wrapping up its North American leg this week, with just two performances in Connecticut and one in Toronto remaining. Mendes made waves earlier this week when he and girlfriend Camila Cabello performed their hit single "Señorita" together at the VMAs.
4. Rolling Stones (Rank last week: 5)
The Rolling Stones are closing out their critically acclaimed "No Filter" tour with a show on August 31 at the Hard Rock Stadium in Miami. The tour was originally scheduled to kick off in the spring, but instead Mick Jagger underwent an emergency heart valve replacement surgery which forced them to postpone. In the end it didn't matter: the excitement around this tour proves that the Stones are still just as popular as ever.
5. Post Malone (Rank last week: 3)
Post Malone has just revealed the details surrounding his upcoming new album, Hollywood's Bleeding, which conveniently drops just eight days before his tour kicks off. Hype surrounding this viral rapper will only build in the coming weeks as fans gear up to see him live.
_____________________________________________________________
"Rising" Artists and Festivals
Past Week, Based on the Percent Increase in SeatGeek Web Traffic
1. Waterparks: +441%
Warped Tour darlings Waterparks announced dates behind their "Fandom" tour last week. With tickets selling like hotcakes, and a new album coming in October, buzz around this up-and-coming band is high.
2. WGCI Summer Jam: +256%
Chicago's #1 station for Hip-Hop and R&B, WGCI, hosted their annual Summer Jam concert over the weekend. Performers included Gucci Mane, Yo Gotti, Polo G, Queen Naija and more. Although it's too late to attend this year's festivities, set your calendar reminder for 2020 now.
3. Phish: +232%
This prolific jam band recently announced a string of fall tour dates, with tickets becoming available last week. With just a few shows on the upcoming docket, expect phans' excitement to build as the shows get closer. 
4. North Coast Music Festival: 171%
Chicago's North Coast Music Festival kicks off its 10th anniversary weekend on Friday, with performances by Flux Pavilion, Jai Wolf and Bassnectar. After a full day of music on Saturday, heavy-hitters Major Lazer and Jauz will close things out.
5. Alan Jackson: +148%
This country legend has just added two concerts to his sparse September schedule. Fans living in Omaha or Oklahoma City now have a chance to see the musician in the flesh on September 13 and 14, before he heads down to Florida for gigs in Orlando and Jacksonville on the 20 and 21.
_____________________________________________________________
Most Popular Upcoming Tour Stops and Festivals
Upcoming Week, Based on SeatGeek Ticket Sales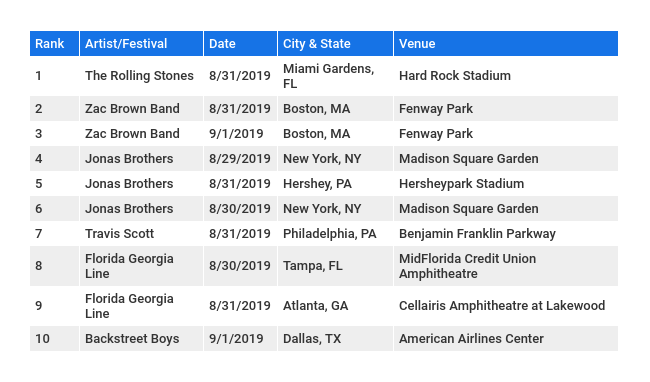 No surprise here: the Rolling Stones top this list yet again as the last stop on their No Filter tour draws nearer. Up next on Mick, Keith and Co.'s  schedule: a massive show at the Hard Rock Stadium in Miami Gardens this Friday. Not to be outdone by the rock royalty, Zac Brown Band is also pulling in an impressive showing for their back-to-back gigs at Fenway Park in Boston on August 31 and September 1. 
Folks living in the New York tri-state area continue to be spoiled by epic pop performances: last week Shawn Mendes took over Brooklyn, and now the Jonas Brothers are set for a two-night run at Madison Square Garden in Manhattan. Travis Scott will kick off Labor Day Weekend with a headlining spot at Made in America festival, held annually at the Benjamin Franklin Parkway in Philly, while Florida Georgia Line continue to work work work their way across North America.