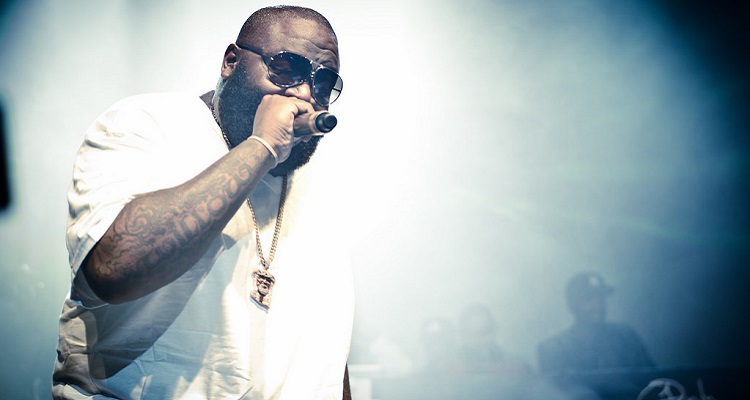 In a just-released memoir, rapper Rick Ross details how the multiple seizures he suffered in recent years was partially the result of chronic drug abuse.
In the book Hurricanes: A Memoir, which Neil Martinez-Belkin co-wrote with Rick Ross, the rapper describes his rise from a crime-infested neighborhood in Miami to becoming a major success.  It also details his struggles, including with drugs.
Ross says that he became inspired to write a memoir after being hospitalized in 2018 for seizures, which made headlines at the time. He says that a number of bad decisions on his part were the causes of these seizures, in particular drug abuse.
This drug abuse was centered around codeine, which is an opioid prescribed as cough medicine. Ross not only used codeine recreationally, but he also would drink prescription cough medicine to try to deal with all the stress he was feeling.
But codeine was just part of Ross' problem. He further mixed codeine with both alcohol and other drugs he was abusing. On top of all of this, he says that he was not getting enough rest and that he was not obeying the orders of his doctors, which included taking medicine for past seizures.
Ross further says that he believes that it was combination of all these things that eventually led to the string of seizures.
Here's a harrowing excerpt from the book, where Ross details a scary incident involving yet another seizure.
I'd caught a cold the day before and had a bad cough. I'd been taking DayQuil and using Vicks VapoRub all day. When I went to bed that night I had a seizure. But I didn't come out of it the way I usually do. My breathing was all fucked up. At around 3:30 in the morning the girl I was with went downstairs and told Tomcat I had shit myself and was foaming at the mouth.
A few minutes later I was able to get myself out of bed. I still wasn't breathing right but I got into the shower to clean myself off and try to get myself together. When the paramedics and police arrived I had Tomcat turn them away. I'd been through this before. I'd be straight. But then I started coughing up blood in the shower. That had never happened before.
At that point Tomcat said I needed to go to the hospital. Short Legs came and took me to the closest one, where the doctors discovered I had aspiration pneumonia. Something had gotten into my lungs while I was having the seizure and caused an in­fection. I was sedated and hooked up to a breathing machine.
Ross insists that, while the seizures he suffered were indeed serious, his condition was not nearly as serious as what was being reported at the time.
He says that reports that he had suffered a heart attack and that doctors had placed him on a life-support system were untrue. He also clarified that he longer abuses codeine or other drugs, and that he has completely overhauled his lifestyle and diet.
Rick Ross' 10th album will be coming out soon. It will be entitled Port of Miami 2 and is the sequel to his debut album from 2006.