Pusha T issued a stark warning to leakers of his music via Twitter over the weekend.
"I will make a decent example out of you," the rapper warned.
The rapper put his leakers on blast on Saturday night, saying that no one can stop him from finding them. The tweet doesn't indicate which leak pushed him over the edge. However, two days ago, an unreleased track called "Successes & Nightmares" appeared on SoundCloud.
Pusha T says he doesn't care because "once music is old to me it doesn't matter."
"All the leaks is cute I don't care for real 'cause once music is old to me, it doesn't matter…but I promise you this, if I find out who is leaking it, I will make a decent example out of you…and no one can stop it, no Kanye, nobody! Just cause you think you can play with me."
Pusha T isn't the only one dealing with leaks.
This weekend two unfinished Kanye tracks called "All Dreams Real" and "Selah" leaked on the internet. Earlier this year in August, a 28-minute leak on YouTube surfaced that compiled nine demos and recordings from Kanye's Yandhi sessions.
Pusha T dealt with leaks last year as well when part of his song, "Sociopath," made its way onto the internet in June of 2018. The fed-up artist added in later tweets that it "ain't no fun when the rabbit got the gun." Does that mean he knows who is responsible for those leaks?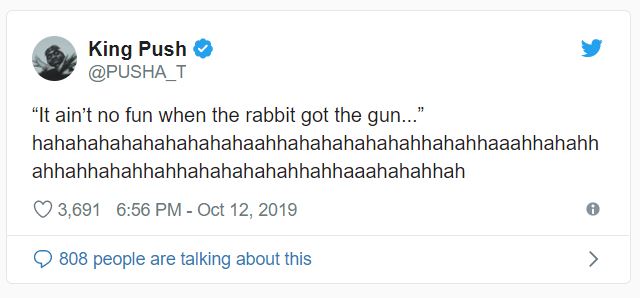 That line seems to reference that Pusha T knows the identity of whoever is leaking. The unsanctioned G.O.O.D. music releases last year may have been from a corporate entity, a friend, or even an angry producer. Commenting on that debacle, Pusha T says he simply hates when leaks happen.
"I hate it, luckily we are talented beyond measure and can always cook up more. But I honestly hate it for the sake of making an event of a song or project; it ruins all that we have in store for u guys."