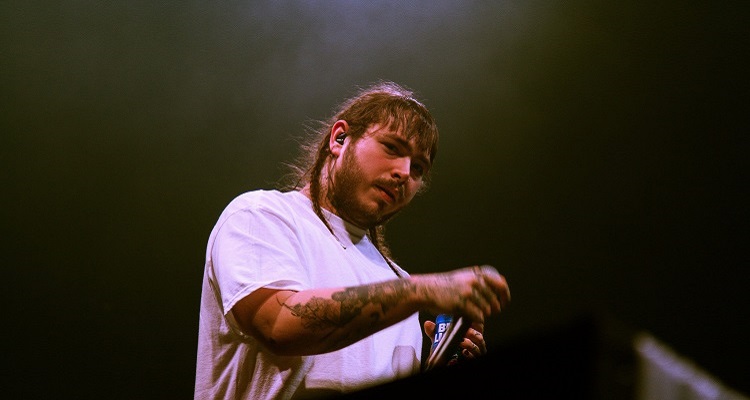 The most popular concert tickets, tour stops, and artists around the country, based on SeatGeek data through Wednesday, October 30th.
Welcome to our weekly report on the world of live music, based on exclusive data from SeatGeek, a ticketing platform that enables fans to buy and sell tickets for sports, concert, and theater events. Read on for insights into the most popular artists and festivals from the prior and upcoming weeks.
Most Popular Artists and Festivals
Past Week, Based on SeatGeek Web Traffic
1. Post Malone (Rank last week: 1)
Post Malone is currently on the "Runaway Tour" in support of his latest album, Hollywood's Bleeding. This weekend he'll perform at the second annual Posty Fest, his own curated event held at the AT&T Stadium in Arlington, TX.
2. Luke Combs (Rank last week: 5)
Luke Combs is having a great year. The rising country star is still in the midst of his uber successful "Beer Never Broke My Heart Tour," but he also made waves last month with the announcement of the "What You See is What You Get Tour" slated for 2020.
3. Bad Bunny (Rank last week: 7)
Bad Bunny has just kicked off a fresh leg of his "X 100Pre Tour," which will see the Latin superstar throughout parts of the South, Southwest and East Coast. Fans living below the Mason-Dixon Line will get a taste of the musician when he performs there this weekend.
4. Billie Eilish (Rank last week: 4)
Besides an upcoming performance in Mexico City, Billie Eilish fans will not be able to see the alt-pop star live until her spring 2020 "Where Do We Go? World Tour." Said tour kicks off on March 9 in Miami at the American Airlines Arena, with dates running through mid-April.
5. Elton John (Rank last week: 6)
Elton John is still serenading fans around the country one last time on his "Farewell Yellow Brick Road Tour." The "Candle in the Wind" singer will take his musical stylings to Atlanta this weekend, for two nights at the State Farm Arena, followed by a performance in Tampa.
_____________________________________________________________
SeatGeek "Rising" Artists and Festivals
Past Week, Based on the Percent Increase in SeatGeek Web Traffic
1. Kanye West +443%
Kanye West is always in the news in some capacity, but the rapper is back in the musical spotlight after dropping his highly-anticipated new album, Jesus is King. Whether the reformed gospel singer is planning on taking his new tunes on the road is yet to be seen.
2. Niall Horan +189%
Former One Direction member Niall Horan has just announced another solo tour. The "Nice to Meet Ya" tour will kick off next April in Nashville, and will also feature Lewis Capaldi and Fletcher as tour support.
3. Jhene Aiko: +189%
Although Jhene Aiko doesn't have any upcoming tour dates, she did make headlines last weekend with her viral Halloween costume. The R&B singer dressed up as Pokemon master Ash Ketchum, garnering comments and tweets from peers like Big Sean and B. Simone.
4. Pouya: +169%
Florida rapper Pouya is on the rise. The Florida-based musician has been making a name for himself through Sound Cloud and mixtapes, and most recently was featured on a song by Yung Pinch called "That's My Baby."
5. Omar Apollo: +163%
Singer/songwriter Omar Apollo is having a good year. The musician will set out on a headlining tour later this week, dubbed "The Speed of Sound Tour," and he also just made his television debut on Late Night With Seth Meyers earlier this week.
_____________________________________________________________
Most Popular Upcoming Tour Stops and Festivals
Upcoming Week, Based on SeatGeek Ticket Sales
No surprise here — another week of Post Malone and Elton John dominating in popularity. This week Post is taking a break from his usual grueling tour schedule in order to appear at his self-curated Posty Fest. The second annual festival will be held at AT&T Stadium in Arlington, TX this Saturday. Meanwhile, in Atlanta, Elton will be performing for two nights (Friday and Saturday) at the State Farm Arena, followed by a show at the Amalie Arena in Tampa on Monday.
Dead & Company kick off their fun run this week, with two back to back concerts at Madison Square Garden on October 31 and November 1. You can also catch Bob Seger on his farewell tour when it makes it way to the Wells Fargo Center in Philly on Friday. Just two days later, Fleetwood Mac will take the same stage as part of their North American fall tour.