A new report from Canalys shows global smart speaker growth up 44.9% in Q3 2019. Google Home growth is down -40%.
Smart speaker adoption continues to grow at a record pace. Amazon shipped 10.4 million devices last quarter, handily edging out the competition. One surprising statistic from the report is just how badly Google Home is doing.
Amazon pulled off a massive success with Prime Day promotions and back-to-school specials on Alexa devices. Chinese e-commerce giant Alibaba reclaimed the top spot in China, bumping it up to second place globally.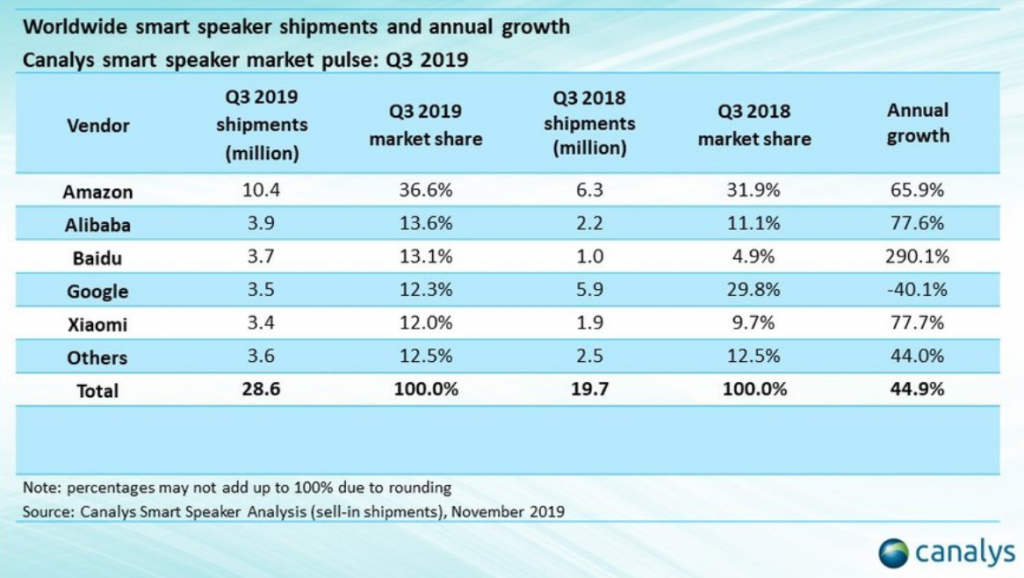 Google drops from third to fourth as the company focuses on its Nest branding. That drop could be attributed to an increasing distrust of Google products. A whistle-blower recently revealed Google had access to 50 million Americans' health records without their consent.
Google recently rebranded all of its smart speaker products under the Nest moniker. But the brand change doesn't account for that sharp drop-off.
It also explains why Google has partnered with Spotify to give out free Google Home Mini devices to Premium subscribers. It's a strategy that has helped Alibaba reclaim the top spot in China ⁠— so it's no surprise Google is doing it here in the US. Alibaba has run collaborations with brands like Starbucks, Budweiser, and Oreo to increase the appeal of its smart speaker devices.
Smart speakers with displays are also getting much more popular. The smart display category grew 500% globally this quarter ⁠— with shipments of 6.3 million for Q3 2019. Canalys says the key to helping this category grow is keeping prices manageable.
Google once again came up in last place here, with only 700,000 shipments compared to Amazon's 2.2 million in the same quarter. The Echo Show 5 smart display made up 16% of Amazon's overall global shipments. It was the best-shipping smart display in the category and will probably remain so throughout the holiday season.