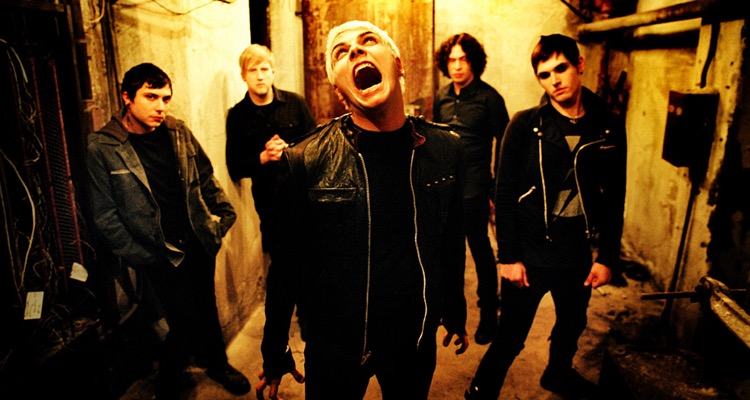 The most popular concert tickets, tour stops, and artists around the country, based on SeatGeek data through Wednesday, February 5th.
Welcome to our weekly report on the world of live music, based on exclusive data from SeatGeek, a ticketing platform that enables fans to buy and sell tickets for sports, concert, and theater events. Read on for insights into the most popular artists and festivals from the prior and upcoming weeks.
Most Popular Artists and Festivals
Past Week, Based on SeatGeek Web Traffic
1. My Chemical Romance (Rank last week: 222)
My Chemical Romance are turning their uber successful reunion concerts into a full on tour. After reuniting to play for the first time since 2013 back in December, the band has announced a run of fall tour dates that allow far more members of the "MCRmy" to experience the band firsthand. The fun kicks off on September 9.
2. Coachella Festival (Rank last week: 1)
Although most of the country is still in the thick of winter, it's time to start getting pumped for Coachella. The popular annual California fest has just dropped details behind its 2020 lineup, with Rage Against the Machine headlining.
3. Justin Bieber (Rank last week: 4)
Justin Bieber just announced dates behind his upcoming "Changes Tour." The shows kick off on May 14 in Seattle and wrap up on September 26 in East Rutherford, NJ at the MetLife Stadium. Fans can expect to hear tunes from his new album of the same name.
4. Billie Eilish (Rank last week: 2)
Grammy winner. Vogue cover star. James Bond theme song singer. And, after this weekend, Oscar performer. Is there anything Billie Eilish can't do? Find out when she kicks off her "Where Do We Go? Tour" this spring.
5. Trippie Redd (Rank last week: 3)
Trippie Redd's "Love Me More" tour is underway, with the rapper performing this weekend at the Eagles Ballroom in Milwaukee on Friday and the Riviera Theatre in Chicago on Saturday. He has shows scheduled through the rest of February so fans will have a chance to see him in every area of the country.
_____________________________________________________________
SeatGeek "Rising" Artists and Festivals
Past Week, Based on the Percent Increase in SeatGeek Web Traffic
1. My Chemical Romance +11013%
After announcing days ago that they would be reuniting and hitting the road for a full-fledged tour, My Chemical Romance is seeing a massive spike in popularity. Their 2020 reunion tour kicks off on September 9 at Detroit's Little Caesars Arena, followed by stops throughout the Midwest, East Coast and West Coast. The tour wraps up on October 11 in Las Vegas at the T-Mobile Arena.
2. Jennifer Lopez +814%
Although J. Lo doesn't have any tour dates on the docket, she's been on the front page of the news since her Sunday Super Bowl halftime show performance. The pop icon, along with Shakira, took the stage in Miami for an epic medley of hits including "Waiting for Tonight." Catch her being interviewed on February 29 at The Forum in Inglewood for Oprah's 2020 Vision tour.
3. Incubus: +787%
Earlier this week, Incubus and 311 announced plans for a joint summer tour. The fun begins at the White River Amphitheatre in Auburn, Washington on July 15. The bands run down the West Coast and through the Southwest, stopping at Albuquerque's Isleta Amphitheater before turning north toward Denver. The final show is set for September 5 in Noblesville, IN at the Ruoff Music Center.
4. Guns N' Roses: +628%
Guns N' Roses will probably never reform in their Appetite For Destruction-era lineup, but the outfit that will tour the United States this summer is dang close. Following runs through Europe, Central and South America, an iteration of GNR featuring core lineup members Axl Rose, Duff McKagan and Slash will play a hefty tour starting in July.
5. Young Nudy: +516%
Atlanta's Young Nudy has just dropped a new single and new tour dates to boot. The "Anyways Tour" kicks off on March 20 in Oxford, MS and runs through April 30 in Atlanta, GA. In between, catch the rapper in Austin, Denver, Detroit, Boston and Baton Rouge to name a few.
_____________________________________________________________
Most Popular Upcoming Tour Stops and Festivals
Upcoming Week, Based on SeatGeek Ticket Sales
Post Malone is as popular as ever, and the excitement behind his upcoming "Runaway Tour" dates are proof. You can catch him this week and weekend in St. Louis, Indianapolis and Rosemont, IL at the Allstate Arena. Oprah's 2020 Vision tour is making its way to Brooklyn for a massive showing at the Barclays Arena this weekend, while Rex Orange County will be just miles away performing at Radio City Music Hall in Manhattan on the same day.
All For the Hall will take the stage at Nashville's Bridgestone Arena on November 10. Days earlier, Billy Joel performs at the Amalie Arena in Tampa on February 7. The Eagles "Hotel California Tour" will make its way to the State Farm Arena in Atlanta on February 8. Luke Combs "What You See is What You Get Tour" makes it way to the Mizzou Arena in Columbia on February 7 and Peoria Civic Center on February 8.