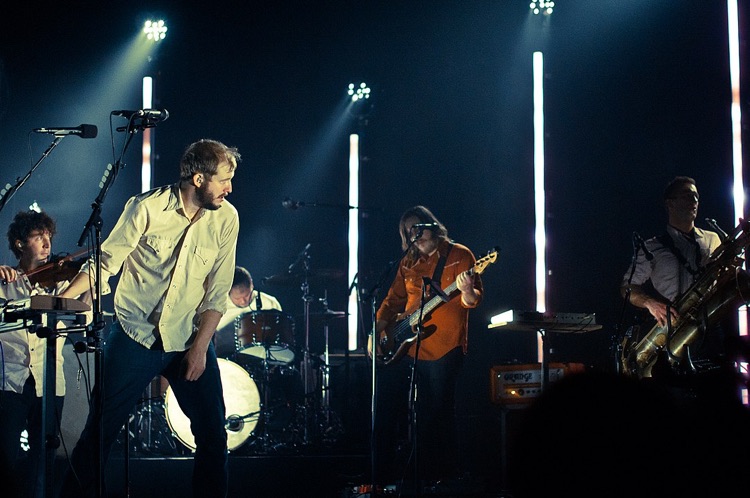 Ahead of the 2020 presidential election, Bon Iver is working to register new voters and rally support for the eventual Democratic nominee. 
Roughly one month out from voting day, the folk band revealed that they will play three concerts in their native Wisconsin. The first will be on October 5th, inside the La Crosse Center; the next on October 7th, at The Grand Theater; and a final performance at the Fox Cities Performing Arts Center on October 8th. To access presale tickets for these shows, fans must pledge to cast a vote for a presidential candidate on November 3rd. 
Though attendees won't need to specify which candidate they will vote for, Bon Iver has agreed to the performances as part of 46 for 46, a political organization that intends to hold 46 concerts in 46 cities to back the Democratic Party's presidential nominee; each participating act will perform in their home state. 
Last month, Bon Iver frontman Justin Vernon, who took to 
Twitter
 to announce his band's participation in 46 for 46, played at a Bernie Sanders rally.
Apparently, his political-party commitment runs deep, as he and his group will throw their support behind any of the candidates who are currently in contention for the nomination. 
Joe Biden opened as a substantial favorite to lead the Democratic Party's 2020 ticket, but his frontrunner position was lost in the wake of several public blunders and controversies. Similarly, Kamala Harris started strong but was forced to drop out, and Elizabeth Warren's momentum has, for one reason or another, stalled. The (generally accurate) Vegas betting odds currently have Vermont Senator Bernie Sanders pegged as a favorite for the nomination, with Michael Bloomberg, the billionaire former mayor of New York City, in a close second. 
President Trump won Wisconsin's 10 electoral votes in the 2016 election, becoming the first Republican presidential candidate to do so since Ronald Reagan. Besides Bon Iver, eight other artists, including Florida's Dashboard Confessional and Louisiana's Cha Wa, are currently set to perform 46 for 46 concerts. 
Wisconsin's Democratic primary will take place on April 7th.